Troy Santolla – Can't Have You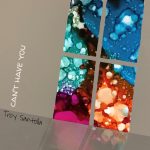 Sometimes he awoke in the morning and felt nothing; his soul leaped, for he thought he was free; he loved no longer; but in a little while, as he grew wide awake, the pain settled in his heart, and he knew that he was not cured yet. — W. Somerset Maugham, Of Human Bondage
… As when a hungry person dreams of eating, but awakens hungry still; as when a thirsty person dreams of drinking, but awakens faint and thirsty still. — Isaiah 29:8
A fine line divides dreaming from being haunted. The prisons and mental institutions are full of souls who slipped down the slope that separates desire from obsession. Troy Santolla isn't going over the cliff any time soon. But his new single, 'Can't Have You,' presents a man with a lot going on in his head. He is both the hunter and the hunted, pursuing a dream of stardom as the Dogs of Memory chase him through the mental underbrush.
'The song is partly about my passion to make my dreams reality, and partly about my ex,' Troy told me. 'We dated three years and it's been about three years since she broke up with me. It took me awhile to get over her and I still think about her every day. While we were together there was one day when she said her biggest fear, if she ever broke up with me, was that I'd become very successful. For some reason that always stuck with me, and has given me lots of motivation in pursuing my dreams. I hope this song inspires people to use the obstacles and low points they face in life as inspiration to achieve their goals and aspirations.'
Musically, 'Can't Have You' is a step forward: Troy is singing a bit here, something I always thought was a good idea (though he went silent on me when I suggested that he try country music). The beat, produced by Frederikus Workum, has a dream pop feel that provides the perfect backdrop for the semi-wistful words.
We've been following the arc of Troy Santolla's career – which, thankfully, is still ascending – for three years, and 'Can't Have You' marks his fifth appearance in these virtual pages. His previous singles, Polar Expre$$ II (recorded as Lil Opioid Crisis) and GAWGEOUS, served as deranged testaments to his sanity. Troy reports that he is 'not doing half bad.' He's working as a promotions assistant for Dick Broadcasting in Greensboro NC, which may lead to greater involvement in the music industry.
You can support deserving dreamers like Troy Santolla by downloading his songs from Apple Music. Add his songs to your Spotify playlist, and be sure to follow Troy on Twitter, Instagram, and YouTube.
The amazing artwork for 'Can't Have You' was created by Diann Zimmerman. You can check out her work on Instagram.