Bacon Hammer – The Arms of Jesus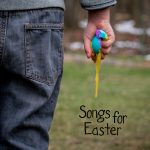 Today is Easter Sunday, the day on which Christians celebrate the Resurrection of their Lord and Savior. Non-Christians, and most Christians, too, for that matter, celebrate the arrival of a large rabbit that scatters eggs around the house in a perverse re-enactment of an ancient fertility ritual. Children seek out the eggs and eat them, thus counteracting the fertility rite with an act of frenzied gluttony. You can't make this shit up.
Americans love a good comeback story, and the Resurrection of Christ is the ultimate proof that you can't keep a good Son down. Or a good Father or Holy Ghost, either. The script writes itself, as if from the Hand of God, as Don LaFontaine intones, 'He's back. And this time, He's immortal.' Thus, in the spirit of Easter, let us celebrate His return with a quiet devotional, 'The Arms of Jesus' by Bacon Hammer.
Theologians tell us that Jesus died to save us from our sins, and that His death was necessary to redeem our Originally Sinful souls. Which leads to the question of what would have happened to humanity if Jesus had been packing a gun. The 32-round Uzi preferred by the Israeli Defense Forces – I'm sure Jesus would buy local – would surely have scattered the Romans, and the scene of Jesus driving the money-changers out of the Temple would have been taken to Die Hard levels as Jesus steps into the Temple and says, 'Hey, Buddy. You didn't give me the correct change,' before opening up on the assembled sinners. Bacon Hammer also ponders the impact of a firearm on Christ's own followers.
If Jesus had a gun
I'll bet the masses would have made more donations
The song was apparently sung by Tom Petty, but that seems unlikely unless he pulled off his own resurrection. Who knows? Tom brought his career back to life more than once in the last forty years.
'The Arms of Jesus' is from the Bacon Hammer's five-song EP, Songs for Easter, released in 2018. The track was our Song of the Day last Easter and, yes, I plan to re-print this post every year. Bacon Hammer self-describes as 'a revolving cast of sonic omnivores hosted by Greg Jarrow and committed to creating and solving musical problems.' The current lineup is Greg Jarrow, Chris Belding, and Charlie Auer. The collective is based in South Brunswick Township, New Jersey.
We previously featured Bacon Hammer's music in a longer multi-song post, Through the Year Backwards with Bacon Hammer. The post was our longest feature since 2015. For us to devote so much newsprint to a single band should tell you something. It tells you Greg Jarrow sent me some free CD's.
When the members of Bacon Hammer aren't blaspheming the Lord and Savior of over 2 billion Christians, they are making beautiful music as Yellow Dog. Check out their album, She's a Ghost. Eleven tracks by Greg Jarrow and Charlie Auer that float in that wonderful cloud that separates and connects rock, folk, and country. Here's an example, the Elliott Murphy-esque 'Hiding Alone.'
You can help support serving independent musicians like Bacon Hammer by visiting their Bandcamp page, listening to their music, and downloading your favorite tracks. Or download the entire Songs for Easter EP, along with their previous EP, Songs for Thanksgiving. And be sure to follow the band on Facebook, Twitter, YouTube, and Soundcloud.
Happy Easter, everyone!