Bacon Hammer – The Arms of Jesus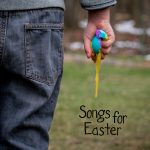 Today is Easter Sunday, the day on which Christians celebrate the Resurrection of their Lord and Savior. Non-Christians, and most Christians, too, for that matter, celebrate the arrival of a large rabbit that scatters eggs around the house in a perverse re-enactment of an ancient fertility ritual. Children seek out the eggs and eat them, thus counteracting the fertility rite with an act of frenzied gluttony. You can't make this shit up.
This year, Easter Sunday falls on April Fools Day, which is appropriate since the Resurrection of Christ was the ultimate practical joke on the folks who hung Him on the cross. Surprise, suckers, I'm back! Thus, in the spirit of Easter, let us celebrate His return with a quiet devotional, "The Arms of Jesus" by Bacon Hammer.
The song was apparently sung by Tom Petty, but that seems unlikely unless he pulled off his own resurrection. Who knows? Tom brought his career back to life more than once in the last forty years.
"The Arms of Jesus" is from the new five-song EP, Songs for Easter. Bacon Hammer self-describes as "a revolving cast of sonic omnivores hosted by Greg Jarrow and committed to creating and solving musical problems." The current lineup is Greg Jarrow, Chris Belding, and Charlie Auer. The collective is based in South Brunswick Township, New Jersey.
You can help support serving independent musicians like Bacon Hammer by visiting their Bandcamp page, listening to their music, and downloading your favorite tracks. Or download the entire Songs for Easter EP, along with their previous EP, Songs for Thanksgiving. And be sure to follow the band on Facebook, Twitter, YouTube, and Soundcloud.
Happy Easter, everyone!