The Stillvettas – Mountain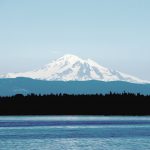 "Mountain," by The Stillvettas, is a powerfully beautiful song possessing all of the elements that anyone searching for Good Music should require: huge, melodic guitars with Big Chords; a singer who can hit the back wall with his voice; a sensibility that is equal parts rock, pop, country, and opera; and all that other stuff people want: you know, words and a rhythm section and stuff. This may be my New Favorite Song.
"Mountain" eases to life with a soft statement of the theme before rolling out the aforementioned Big Chords, the SG on the right and the Strat on the left. Not chords in the sense of Your Father's Power Chords, but the chorded melody once popular among guys with long hair, a Marshall amp, and an open tuning. Then the singer opens up with one of those voices that you'll be willing to wait for like the hero of "Brownsville Girl" standing in line to see a movie starring Gregory Peck.
As a Certified Music Journalist, I'm obligated to insert at least one Obscure Reference into each review. Otherwise, the Journalist's Guild will send someone to the house to rip that coveted Music Press card out of the hatband of my Fedora. So here is the Obscure Reference for Today: the guitars in "Mountain" bring to mind Michael Schenker's work on UFO's Phenomenon. You don't think so? Listen and tell me I'm wrong.
"Mountain" is from The Stillvetta's new three-track EP, Mountain and the Wind. The band, a fairly new outfit from Bellingham, WA, comprises Quinton Rundell (vocals, rhythm guitar), Thayne Yazzie (vocals, lead guitar), Stephen Harris (bass), and Will Holland (drums). And that's about all I could find without going into full-on Stalker Mode.
You can support deserving independent musicians like The Stillvettas by visiting their Bandcamp page, listening to their songs, and downloading your favorite tracks. And be sure to follow The Stillvettas on Facebook.