Jim Basnight and The Moberlys – Ain't It Funny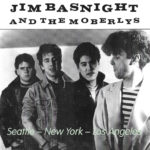 There is still left a single story of a way, that it is. On this way there are signs exceedingly many — that being ungenerated it is also imperishable, whole and of a single kind and unshaken and complete. Nor was it ever nor will it be, since it is now, all together. — Parmenides, On Nature (translated by Richard D. McKirahan)
The universe is made of stories, not of atoms. — Muriel Rukeyser, The Speed of Darkness
Parmenides posited that our Universe is one big, unchanging and unchangeable Thing, always present and never created, because Creation implies that nothing existed before, and Nothing cannot exist.
To the Eleatics, what we mortals define as Change is only a perceived alteration of appearance, a scrolling panorama behind our stage that provides the audience with the illusions of forward movement and the advancement of time.
Our Universe's participants may be continually cast and recast, like the soap opera character that is portrayed by a parade of actors, each stepping into the shoes of the predecessor and reciting the lines that advance a story that is never concluded, the faces of the actors changing while the components of the plot remain the same.
With 'Ain't It Funny,' Jim Basnight and The Moberlys observe the every-altering face of our world and find that the question of the Universe's creation is perhaps less important than the narrative created by the players.
But ain't it funny how the days change
How the leaves in the trees turn from green
To orange and brown…
I want to know how, I want to know now
But I can't remember why
You take me around
You show me the sights and sounds
And I believe in you and you in me…
I love the ishes of 'Ain't It Funny.' The country-ish guitar line, the mariachi-ish sax, the slightly punk-ish vocal that carries a wonderfully memorable melody. This song will be stuck in your head. 'Ain't It Funny' should have been a hit record somewhere, sometime. But, given the unchanging nature of our Universe, that place and time could be Here and Today.
'Ain't It Funny' appears on Jim Basnight and The Moberlys' twenty-two song album, Seattle – New York – Los Angeles. The songs were recorded in the mid-to-late 1980's and were originally released in 1995 by French label Pop The Balloon Records. The album is now available in digital format from Power Popaholic Productions.
The musicians on 'Ain't It Funny' are Jim Basnight (lead vocals, guitars), Glen Oyabe (guitars, vocals), Toby Kiel (bass, vocals), Dave Drewry (drums), and Jay Work (sax). The track was produced by Harlan Hollander at EMI-America studios in Los Angeles.
In addition to The Moberlys (1978-89), Jim Basnight has been a member of the Meyce (1975-77) and the Rockinghams (1993-97). Way back in 2019 we featured 'Code to Live By' from Jim's fifth solo album, the perhaps Parmenides-influenced Not Changing. Jim Basnight's music is available on Bandcamp, Spotify, Apple Music, and Amazon. Be sure to visit his website, and follow Jim on Twitter and Facebook.