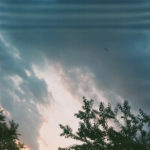 And what shoulder, and what art, Could twist the sinews of thy heart? And when thy heart began to beat, What dread hand? And what dread feet? — William Blake, The Tyger
She wanted to die, but she also wanted to live in Paris.
― Gustave Flaubert, Madame Bovary
Ula Blue's 'Carry On' describes the mental refuse that remains after the bulldozer of an abusive relationship creeps — not plows — through one's life, rendering its destruction slowly, so slowly that one may not notice the flattened trees and destroyed existential dwellings until years later when you compare the face in the mirror to a curling photograph and ask yourself Well, how did I get here?
The aftereffects of the abuse can linger for years, forever maybe, an undead demon hidden from outsiders but always limping along behind you, viewed in the rearview of your mind's eye just above the etched warning, Objects in mirror are closer than they appear.
I wrote this song in the winter of 2018 after a series of emotionally abusive relationships, Ula tells us. It was my way of processing how my self-image had been impacted by people who were unable to really see me.
'Carry On' is a tour of the past, an evening spent flipping through the contents of a long-remembered shoebox full of mementos. Oh look, here's the relationship that failed because it began too soon…
Patti Smith advice to the young
the devil sits towards the setting sun
and memories of a love too young
oh baby, look how far we've come
And here's that napkin from the airport lounge, the only surviving remnant of the Abusive Long Distance Relationship, that one when I traveled hundreds of miles for the privilege of being yelled at…
took a trip on an aeroplane
headed home through
the wind and rain
and – lord I don't know
what I came here for
but I'm standing
outside your front door
'Carry On' conveys the ambiance of a gritty dream, the dream without a coherent narrative that leaves behind the sensation of having passed through the home of a former lover while Heart's 'Magic Man' plays over unseen speakers.
Ula Blue self-describes as combining the intimacy and word play of Joni Mitchell with a spirited expression reminiscent of Janis Joplin. 'Carry On' is the first single from her soon-to-be released debut album, fuck your projections. The song's backing track was recorded in Nashville's Happy Camper Studios and features Garrett Fracol (drums), Andre Bernier (keyboards), Reed Gaines (bass), and Carter Vail (guitar). The vocals were recorded by Ula at her home in Stowe, Vermont.
Ula Blue's music is available on Bandcamp, Spotify, and Apple Music. Be sure to visit Ula Blue's website, and follow Ula Blue on Twitter, Instagram, YouTube, and Facebook.