Six Songs for a Better Friday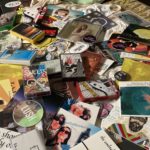 Without government intervention, 90 percent of independent clubs don't believe they can survive another six months of coronavirus shutdown. It could cause a near extinction of small music venues, said Jim DeRogatis, music critic and co-host of the nationally syndicated rock radio show Sound Opinions. — Bob Chiarito, Block Club Chicago
One of my favorite Reverb Raccoon memories: traveling to Chicago with Diann to see Him Horrison, The Lipschitz, and Monica Lewinsky. The venue was billed as Margaritaville, so we were expecting something with, you know, tables and stuff. It turned out that Margaritaville is a basement room not much larger than our kitchen. There were two places to sit: the back seat of a car and a futon without a mattress, just the exposed metal springs. Seems that a cat had peed on the futon earlier that day.
The guy who lived upstairs was alarmed when we knocked on his door, probably assuming that we were either the police, social services, or his landlord. But downstairs, no one blinked when we walked in, and we were offered the best seat in the house: the car seat. Everyone seemed to know each other (What bands have you played in? Oh yeah my brother was in that band! I forgot my guitar. You can borrow mine but it's tuned down a step. That's okay it doesn't matter.) and the music was great even when it wasn't.
The pandemic has fetched away the independent and DIY music venues with great efficiency, depriving musicians of their ability to connect with listeners and to sell their merch. It's important, then, for people like me and my wife — the non-creative normies — to hunt down deserving artists online and to actually buy and download their tracks. So to help you get started in your search for the best independent music, here are six songs from five artists that have been given the Reverb Raccoon Seal of Approval. The link in each Artist – Song subtitle goes to their Bandcamp page.
Jim Shorts – Out on the Patio and Late to the Feast
We discovered Jim Shorts way back in 2015, when he was making lo-fi acoustic tracks in an attempt to release 1000 songs by year end. I don't know if Jim — aka David Haynes of Maryland — succeeded, but he has a whopping forty-three releases on Bandcamp. Late to the Feast, his new nine-song LP, has the rich sound of tight power pop. My favorites: the rocking 'Out on the Patio' and the slightly spacey 'Late to the Feast.'
Naked by the Fire – Lanterns
The Tarp Sessions, the debut release from Naked by the Fire, contains three beautiful and simple tracks. 'Lanterns' has that classic, timeless feel of the great songs. Based in British Columbia, Naked by the Fire is Jeremy Earley and Jacob Leger, self-described as Your favorite two one-man bands in one two-man band.
Funeral Lakes – Earth Falls
Continuing with the theme of Canadian duos that have just released a three-song EP: Funeral Lakes and Golden Season. The tracks cover a range of musical landscape, from Cotton Jones-ish to punk. I especially like the hypnotic, slightly spacey rock of 'Earth Falls,' which features some beautiful vocal exchanges.
Vary Landers – concerning the capacity to deceive oneself and others
Based in Detroit, Vary Landers is one of those semi-shadowy figures who are known only through their Bandcamp releases. Last year we featured the jangly folk-pop of Vary's 'I Did I Do I Will.' Today we are pleased to recommend 'concerning the capacity to deceive oneself and others' from the two-track EP Asterisks. This is a very interesting track, the type of song that I love discovering. I'll leave off the hyperbolic description for once, and let the listener enjoy an unnarrated view.
Steven Lipsticks and His Magic Band – Holter
Steven Lipsticks has been building his new LP, the enigmatically entitled ?, a track-at-a-time for a couple of years now. His latest addition, 'Holter,' accomplishes the trick of sounding simultaneously hot and cool. The track simmers just below the surface, and a nice slide guitar lends the rock a folky tinge. The artist also known as Stefano Rossetti has appeared in these page many times, stretching back to our first feature in 2015 when we asked the burning question, Why Isn't This Guy Famous?
And there we are: six great songs from five great independent artists. Add these to your playlist, and your musical taste will be admired by your friends and envied by your enemies. And remember: you can support independent musicians like the ones featured here by downloading their tracks, and by ordering their merch from Bandcamp or from the artist's website.