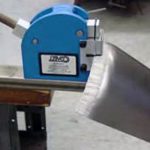 He came in late one afternoon hot from football practice and raided the Kappa Alpha icebox. He also ate a dozen bananas and washed 'em down with a pint of whiskey. An hour later he was dead. It wasn't sad at all. – From Go Set a Watchman by Harper Lee
This week we dedicate Reverb Raccoon to the objects we might find in the Kappa Alpha icebox: the Good, the Odd, the Less-Than-Optimal. And to bananas: ripe, green, bruised, infested with the percolating eggs of fruit flies, primed to burst forth and cloud your living space with their red-eyed vileness three days after you toss that seemingly innocuous peel into the trash, the very peel that, artfully placed in the path of the cartoon coyote, induces the dramatically acrobatic slip that sends him plunging over the canyon's edge, his body diminishing as it retreats from our God-like eye until the small poof of dust signals the overdue cessation of his uncontrolled descent into a rocky oblivion.
And speaking of descents into oblivion, my latest Twitter follower is my good friend Chris Barron, lead singer of (the) Spin Doctors. I figure that either A) Chris has hired an intern to blindly follow every music blogger in the Twitterverse or B) Chris is a fan of solid music journalism and thinks a review by Fluffy the Idiot Cat will bring his latest solo project to the attention of the masses. Definitely the latter. I'll try to help, Chris, but just to manage your expectations: Fluffy's review of Naomi Pop was read by six people. Which means there are four guys in the band and two of them have girlfriends.
Chris is recording a new album with the working title If I Stop Laughing I'll Cry. The three songs released thus far are stripped down and personal. Or as Chris describes them, "Think Leonard Cohen meets Jack Johnson in a dive bar that was nice when Cole Porter used to hang out there."
"April and May," featuring (the) Spin Doctors' Aaron Comess on drums, is a fresh dose of post-punk, non-grunge, 90's folk and pop. You will want to go out and vote for Clinton all over again. The other Clinton. The one who likes dogs. The song is vaguely Blues Travelersish, reflecting Chris Barron's long personal and musical association with (the) B. Traveler's John Popper.
Chris Barron's songs are available for download on Bandcamp. And check out his other solo works like the excellent "I Love You, I Love You, Good-Bye."
Visit my good friend Chris Barron's website, then join me in following Chris on Twitter, Facebook, and Instagram.
From Chattanooga, Tennessee, home of Rock City ("See seven states!"), Ruby Falls, and Moccasin Bend Mental Hospital, comes Jim Shorts, purveyor of "haphazardly created guitar pop." Cycle Through Reruns, comprises eleven songs of dream poppy, shoegazey introspection. "Underdressed"  jumps out of the pack.
Update: "Underdressed" is now included on the album Centuries of Sour Milk.
Yeah, it's rough. But all of the elements are there: crafted songwriting, wistful Beach Boys vocal, cloudy wall of sound. This is Good Music. Join Jim Shorts on Facebook, where you might find this bio-blurb: "Jim Shorts is a project curated by David H[aynes] that includes contributions from Emily H[ampton] and other friends. As of March 2015, Jim Shorts has released 30 collections of material with no signs of stopping. Join Jim Shorts as they attempt to release 1,000 songs by 2016!"
George: What did you do today?
Jerry: Well, I got up, I took a shower, got dressed, and came here.
George: There's a show, that's a show!
Even smelling like soap becomes a song…
I don't know what The Professor Buxton Experience is supposed to be. Is it art, a joke aimed at a professor, a musical Hypno Toad?
The 3-song EP, Experience the Professor Experience was originally offered for the fantastic sum of $30. Why not? I've theorized that it's the price tag that divides trash from art. I could throw some paint on a canvas, offer it up for $5, and no one would want it. But if I increased the price to $5,000,000 people would be falling all over themselves trying to buy it. I don't have 5 million dollars, so obviously I have yet to prove my thesis. A few days following its release, the price of the Professor's EP was lowered to the more reasonable "free."
Also giving away the product of their labor, Knuckleberry Finn, who invites you to download their latest album, Oink, Oink, You Capitalist Pig.
George: …and the Jews steal our money through their Zionist occupied government and use the black man to bring drugs into our oppressed white minority communities.
Walter: I mean, say what you want about the tenets of National Socialism, Dude, at least it's an ethos.
Reverb: No Proletariat Masses were oppressed in the making of this blog.
And finally, we have our Song of the Week: a gentle ballad presented in the spoken-word style of Medieval troubadours. What it lacks in melody, it makes up in narrative arc. Ladies and gentlemen, Reverb Raccon is proud to present the latest single from Atlas Rigging, "Relevance and Importance of Metal Fabrication."
Be sure to visit Atlas Rigging's website. Follow them on Facebook and Twitter, and tell them "Reverb Raccoon sent me." Why? Why not?
George: You see, you see? I see things as they are and I say, 'no!' Uh, wait, you see things as they are not and you s- Wait, uh, you see things, do you see things as they are? What do you say when you see things?
Jerry: Lemme call Elaine and Kramer.
George: If I see things as they are, I would ask 'why' or 'why not?'
Bonus Video: From way back in 1991, "Two Princes" by (the) Spin Doctors. The song was hailed as being Steve Miller-esque, leading to Steve Miller's infinity-ith comeback. Note to Steve: If you're out there, follow me on Twitter. I'll be glad to review your next album.