The Beatersband – Don't Worry Baby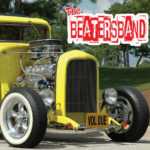 Worrying does not accomplish anything. Even if you worry twenty times more, it will not change the situation of the world. In fact, your anxiety will only make things worse. — Thich Nhat Hanh, The Heart of the Buddha's Teaching: Transforming Suffering into Peace, Joy, and Liberation
He whose eye happens to look down the yawning abyss becomes dizzy… Anxiety is the dizziness of freedom, which emerges when the spirit wants to posit the synthesis and freedom looks down into its own possibility… — Søren Kierkegaard, The Concept of Anxiety
I worry about driving over high bridges. The Horace Wilkinson Bridge that crosses the Mississippi River at Baton Rouge is my arch-nemesis. It isn't the height of the bridge that bothers me, or the fear — experienced by the narrator of John Cheever's 'The Angel of the Bridge' — that the structure will collapse while I am traversing it. I am afraid that I will give in to the urge to jerk the wheel to the right and careen off into whatever lies beyond the guardrails.
Akash Peshin described the sensation as L'Appel du Vide: the call of the void. As you stand on the edge of your balcony, you feel the sense of precariousness creeping up on you… the void or the abyss beckons you.
Thich Nhat Hanh tells me that my bridge anxiety changes nothing, other than increasing the desperation of any passengers who are aware of my condition.
The Beatersband joins the Thầy in saying 'Don't Worry, Baby.' Their new single is a revved-up version of the Beach Boys' 1964 hit, and it's the antidote for whatever Bridge of Sighs you are crossing. I plan to have it cued up on my next trip through Baton Rouge.
Based in the Italian town of Rosignano Solvay, The Beatersband specializes in breathing fresh life into old songs. Or, in their words, la modernizzazione della musica vocale degli anni '50 e '60. Their new album, VOL DUE, showcases eight tracks of punky fun including 'Hang on Sloopy' and 'Will You Still Love Me Tomorrow.' Some are delivered in English; others, like the hard-hitting 'Datemi Un Martello' ('If I Had a Hammer'), arrive in Italian.
VOL DUE is The Beatersband's second full-length collection. Last year's VOL UNO contained a great cover of the Ronettes' 'Baby I Love You.' It's the perfect song for a medium-slow dance across a rec room lit only by a solitary red glowing lava lamp. Don't trip over the couple 'playing Twister' behind the bar!
The Beatersband's music is available on Bandcamp and YouTube. And be sure to follow The Beatersband on Twitter, Instagram, and Facebook.