Rainsticks – Atlanta Traffic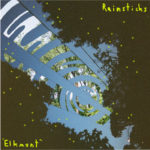 I equate films with sand castles. You get a bunch of mates and you go down and you say, 'I'm gonna build this great sand castle,' and you build it. And then the tide comes in and in twenty minutes it's just smooth sand. And that structure you made is in everybody's memory and that's it. — Robert Altman
Sited on a terrace of the Little River and underlain by metamorphosed sandstone deposited one billion years ago, Elkmont, Tennessee has been abandoned. A camera placed to continuously film the town would, from day-to-day, perceive no changes. But fast-forward through fifty future years of frames, and the viewer will see Elkmont return to the montane alluvial forest from which it was carved, overtaken in the slowest of motion by red maples and yellow poplars, with an understory of rosebay rhododendron and mountain laurel.
In 'Atlanta Traffic,' Rainsticks describes a pain that is receding more slowly than the boundaries of Elkmont, slower even than the array of cars on I-75 and -85 between the Baker-Highland Connector and Irwin Street NE. Each day seems no better than the last, but five months? years? karmic incarnations? from now, it will all be better (maybe) with nothing remaining but the images sequestered on a cryptically-named zip file in your Documents folder.
Cobwebs line old Tennessee
Elkmont's where time moves slower
Than lines of Atlanta traffic downtown
I tried to reach far for you
But it hurts so bad
I'm getting better it's true
It just hurts like mad…

The lyrics alternate visual imagery with the thoughts that bubble to the surface whenever the brain has an unoccupied interval. Listen for the vibraphone and the slide guitar solo at 1:26. I love the twelve-string's spaces, the harmonies, and the simple poetry, the beautiful way that the song says It hurts.
Rainsticks is a project by Asher Horton of Nashville, Tennessee, with Ben Parks, Alex Benick, and Rodrigo Avendaño. 'Atlanta Traffic' appears on the latest Rainsticks album, Elkmont, released in 2018. I stumbled across the album earlier this year while writing about 'Car Alarm,' a track released by Asher as Hot Car. Elkmont is an excellent album, and 'Atlanta Traffic' is a timeless track that could have been a song of the day two years ago or twenty years in the future.
The music of Rainsticks is available on Bandcamp, Spotify, and Apple Music. Visit the Rainsticks website, and be sure to follow Rainsticks on Instagram and Facebook. And to learn more about Asher Horton and the world of Nashville DIY music, listen to this Music City Pulse podcast recorded last year.