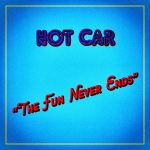 My college writing instructor — a magnificent old Welshman who claimed to have known W.C. Fields and to have survived a fistfight with Robert Shaw — advised against writing outdoors. It seems like a good idea, he said. But then the bugs bite and the sun is in your eyes and you get too hot and your papers start flying around… Just stay indoors and write.
But today we are ignoring Dr. White's advice. We are outdoors, reclining in the too-narrow breezeway that separates the Houston Spring from the Houston Summer. The monarchs are grazing in the garden — they pass through twice each year — attracted to the flowers that are well-rained-on and promising a May-long flourish before the sun clicks into late-June overdrive, when the marigolds will extend their leaves and beg for a cool drink from a warm garden hose and the dianthus will say sayonara until Fall.
The grass is green and newly-trimmed and, viewing it from the shade of the oak in the far back of our lot, we can for a moment forget the Virginia Buttonweed's nefarious plot to interrupt John W. Harding's dream of a perfect St. Augustine lawn. Our stated mission is to write about 'Car Alarm' by Hot Car. But I'm two glasses of cheap Chardonnay into this project and still haven't figured out all of the words. I think it's about accepting our strangely quarantined lives, enjoying our fate, and hoping that the alarmed car in our garage is suffering nothing worse than a momentary lapse of resolve.
I stumbled upon 'Car Alarm' while browsing the new arrivals on Bandcamp. I love this song. Which is good because I've listened to it approximately infinity times in the last several hours. Writing about a song that you don't enjoy is like dating someone who doesn't like your clothes. Jangly guitars, vaguely Cure-like, actual melody, harmonies… 'Car Alarm' is the perfect pop song for a low-humidity day when the cardinals and the mockingbirds are trading choruses. And it's in A so I can sing it for my friends if I ever learn the words.
Hot Car is Asher Horton of Nashville TN. 'Car Alarm' appears on his new thirteen-song album, The Fun Never Ends, which was dreamed up, played and recorded this month while under lockdown. It's a great album, original power pop leavened by a lacing of covers. Asher Horton is — as far as I can gather — a member of Sun Seeker, a group that has managed to gain some traction. Asher has previously released two excellent albums, the first under his own name, the latest as Rainsticks.
The Fun Never Ends is available on Bandcamp. And while you're there, check out 'I Don't Think Lovin' You Is Very Great Anymore,' the latest release by Sun Seeker.
Bonus Track: 'Somebody's Crying,' a cover of the Chris Isaak song from way back in 1995. Wait for the chorus that kicks in at the fifty seconds mark.