John Statz – Rainy Days in the U​​K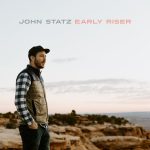 When I went off to school, I initially majored in architecture. Unlike George Costanza, I had never dreamed of pretending to be an architect and — looking back — I have no idea why I chose that major.
I was a terrible architect. A classmate, who later became a very successful architect, told me why I was so bad at it. 'Architecture is about helping people,' he said. 'It's about making their lives better. You're a bad architect because you don't like people.' He was right. My designs — one featured a master bedroom that could be entered only by passing through the bathroom — seemed intended to extract emotional pain from the residents.
Not surprisingly, people in distress do not text or call me in the middle of the night. But I've been honing my Empathy Skills with my oldest cat, who turns to me — ungratefully and often annoyingly — when she is cold, when she's hungry, when she wants to take a walk in the back yard. Someday I may be one of those people that help other humans navigate the shoals that separate the problems of today from the problems of tomorrow. But for now my wife remains the primary provider of solace in our house.
While on a tour in the UK, John Statz was surrounded by rain, isolation, Brexit, and those Relationship Blues. He fortunately found the friend that we would all like to be, someone who took his call and talked him through a situation that seemed impenetrable. I called a friend who helped me tremendously, he told us. And later that night, in the tiny Dorset town of Worth Matravers on the English Channel, I wrote 'Rainy Days in the U.K.' and played it the rest of the tour.
Thank you for taking my call,
thanks for being my friend,
it gets lonely sometimes,
all of this traveling.
'Rainy Days in the U.K.' grabs you with the first stroke of the snare. A gentle keyboard sketches a melody that is repeated with variations throughout the song. The arrangement builds, but never overpowers the voice that is the song's centerpiece. I'm impressed by the composition's structure, with verses, choruses, and bridges perfectly designed. Wait for the beautifully simple harmonies that arrive in the second verse.
'Rainy Days in the U.K.' appears on John Statz's new album, Early Riser. It's a highly listenable record, a true album, not just a collection of disparate tracks. I clicked on the first song and didn't hit Pause until the last note of the final track had faded into the ether. I immediately recalled Jackson Browne's The Pretender.
The music of John Statz is available on Bandcamp, Spotify, and Apple Music. Be sure to visit John's website, and follow John Statz on Twitter, Instagram, and Facebook.