Low Ceilings – Just Exactly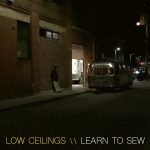 Death induces the sensual person to say: Let us eat and drink, because tomorrow we shall die… — Søren Kierkegaard, Three Discourses on Imagined Occasions
What shall I do tomorrow? Because, you know, at some point I'm going to be dead. — John Dredge, Twitter
I don't fear Death. Why should I? I'll be dead. But I fear the Pain and Suffering that may arrive at my Going Away party too early, clutching a bottle of cheap Moscato, and linger behind scarfing the last of the Chex Mix long after the other guests are safe in their beds. I don't fear my final destination because – if there is a forgiving God – the worst I can do is a lower level of Purgatory. I mean, I haven't killed anyone.
In 'Just Exactly,' Low Ceilings steps around Death, Pain, and Suffering – entities invited to the crowded gathering only because they were on an outdated contact list, the Twitter follows with the muted feeds – and gives them a side-eyed nod of recognition, the same signal of acknowledgement you might make when passing a co-worker in the hallway, the one who stole your lunch from the break room refrigerator. You know they ate your lunch. They know you know they ate your lunch. But what are you gonna do? Shit happens.
'Life is pain,'
That's what they say
Well I guess I understand
But I can't stand
All this talk about God's plan
They also say
'Shit happens, man'
'Just Exactly' is a fabric sewn of clear and widely-spaced notes, Cy Twombly's Orpheus refracted into focus. A handful of chords in G-sharp, maybe a capo on the first fret, create an air of easy grace and half-smiled acceptance.
Low Ceilings is the solo project of Ben Mueller, based in Windsor, Connecticut. His music has been described as a distinctive brand of folk-rock with a progressive tilt, over which he explores love, loss, and the profundity in banal and everyday happenings. 'Just Exactly' appears on Low Ceilings' new ten-song album, Learn to Sew.
The music of Low Ceilings is available on Bandcamp, Spotify, and Apple Music. And be sure to follow Low Ceilings on Instagram and Facebook.