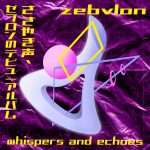 Much has been gained if we succeed in turning your hysterical misery into common unhappiness. — Sigmund Freud
My depression is the most faithful mistress I have known — no wonder, then, that I return the love. — Søren Kierkegaard
I feel like my old self again – neurotic, paranoid, totally inadequate, completely insecure. It's a pleasure. — George Costanza
As far as I can tell, everyone that I follow on Twitter is depressed. Based on that statistically valid sample, it's clear that people become depressed when I follow them on Twitter. Fortunately, I have inflicted only 348 souls with the malady which, it is to be hoped, qualifies as Freud's common unhappiness and not hysterical misery.
In 'Ornery,' Zebvlon speaks of pain and asks, Is it me that is the problem or does everyone feel the same? The song itself is schizophrenic, with the music and lyrics displaying different personalities. After opening with a springy let's rock 'n roll riff, a Vox-ish organ chimes in and a very pleasant voice inquires…
what if you came home and found
daddy lying in the grave?
maybe then you'd wait
another year to run away
Not what I was expecting, but the word-music mismatch makes life interesting and the bouncy melody keeps the Seroquel at bay. The story closes with our Thesis Subject moving forward, not cured but at least not confined to a basement couch clutching a game controller while living on Mountain Dew and Nacho Cheese Doritos.
a broken chord a lullaby
a tune stuck in your head
a perfect walk on a sunny day
filled with existential dread
Or, as Deleuze and Guattari wrote in Anti-Oedipus, 'A schizophrenic out for a walk is a better model than a neurotic lying on the analyst's couch. A breath of fresh air, a relationship with the outside world.'
Based in Mansfield, Connecticut, Zebvlon is Zeb Mrowka (vocals, guitar, studio bass, keyboard), Jake Viramontez (drums), and Collin Sitz (horns, live bass). 'Ornery' appears on their new seven-song album, Whispers and Echoes. It's a fun and challenging collection, with slightly-altered pop constructions yielding unexpected twists, and a herd of that near-extinct species, the guitar solo. Today's track is Zebvlon's second song of the day. We previously featured 'Overwhelmed,' a single released earlier this year.
Zebvlon's music is available on Bandcamp, Spotify and Apple Music. And be sure to follow Zebvlon on Twitter, Instagram, and Facebook.