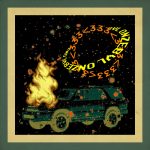 'Overwhelmed!' by Zebvlon is the soundtrack to that coming-of-age movie that makes you shudder when you recall your previous cringeworthy innocence, the film with the ending that we all want but never get, as two separating spirits smile and wave across an empty parking lot and no one becomes a deranged psycho stalker.
The song is sweet-toned pop as timeless as a mist-green 1968 Impala, but with lyrics drawn from a newly-penned script in which text messages replace the class-passed notes of past days.
i hope you don't hate my tone of voice
the things i text cuz i feel rejoice
when i see your name at the top of my phone screen
'Overwhelmed!' concludes with a softly swirling set of horns – a euphonium, I am told – that could have been extracted from a song by Burt Bacharach, perhaps Elvis Costello's version of 'I'll Never Fall in Love Again.'
Zebvlon is Zebulon Mrowka of Mansfield, Connecticut, who played all of the instruments on 'Overwhelmed!' including the horns. He tells me that the song is about 'a girl that I once had feelings for.' That's not the kind of information that should be broadcast, as now every current and future GF will want her own song, too. That may be easier than it sounds; Zebvlon is obviously an enormously talented musician with many great songs yet to be written.
'I have a lot of songs in the archives,' Zebvlon says, 'because I don't really relate to the lyrics anymore.' I think I speak for all regular readers of Reverb Raccoon – both of them, if we include the cat – when I say, 'Hey, let's hear 'em! This stuff is great!'
You can support deserving independent musicians like Zebvlon by visiting his Bandcamp page, listening to his songs, and downloading your favorite tracks. And be sure to follow Zebvlon on Facebook, Instagram, Twitter, Soundcloud, and Spotify.