Graduation Speech – Love and Patience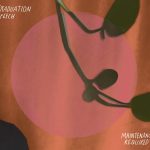 Someday when we die we will lose all our possessions, our power, our family, everything… All of us have seeds of happiness inside us, and in difficult moments when we are sick or when we are dying, there should be a friend sitting with us to help us touch the seeds of happiness within. Otherwise seeds of fear, of regret or of despair can easily overwhelm us. — Thich Nhat Hanh in No Death, No Fear
Expressions of forfeiture are often reserved for survivors – I'm sorry for your loss – while forgetting the sacrifice of the departed. The dying person feels life's rope slipping through their fingers, carrying away the earthly anchors to which it is tethered: loved ones, modest treasures, memories, even the familiar comforts of aches and depression.
In No Death, No Fear, Thich Nhat Hanh reminds the dying to bring a friend, a plus-one to help us balance on the stepping stones as we cross over from this world to whatever truths are concealed by the fog shrouding the other shore. 'Love and Patience,' by Graduation Speech, describes the painful and confusing experience of being the guide, the person who lends an elbow on which we can lean as we make our final footfalls.
The song opens on a beautiful lead line, harmonics and overtones above softly strummed acoustic guitars. The voice reflects the universal emotions one feels when confronted by illness – an emulsion of hope, hurt, and confusion – as comforting chimes step through a nearby stairway.
Who decides when we live?
I've got questions that need answering
Did you know how I felt?
Could you hear my shaking voice?
Graduation Speech is the solo project of Kevin Day, guitarist/vocalist for New Jersey punk band Aspiga. Kevin is joined on 'Love and Patience' by Brian Moss (vocals), Devin Carr (drums), and Pat Pie (piano). The song appears on the new five-track Graduation Speech EP, Maintenance Required. It's a wonderfully understated collection, each song a thoughtfully-crafted gem.
Maintenance Required is available on CD from Black Numbers. Or get more music for less by bundling Maintenance Required with the previous Graduation Speech EP, Quiet and Calm. Here's a sample of the great songs on Quiet and Calm, the soulful stripped-down folk of 'Waiting.'
The music of Graduation Speech is available from Black Numbers, and on Bandcamp, Spotify, and Apple Music. Be sure to follow Graduation Speech on Instagram. Check out the other releases from Black Numbers on their website and on Twitter, Instagram, and Facebook. And follow Kevin Day's band, Aspiga, on Twitter, Instagram, and Facebook.