Drinking Mercury – Stay Home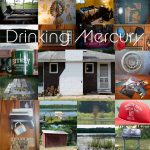 Jim: If she can just hang on for a little while longer, this will be so huge for our family.
Toby: Well, what's a little while?
Jim: What do you mean?
Toby: I mean, what's the end date? It must be really hard for her to sign on to be unhappy if she doesn't know when it's gonna end.
     — The Office, Stairmageddon
The long-distance relationship is the most soul-sucking of social experiments, a lethal brew of loneliness and longing, suffering for the sake of a supposedly spectacular payout in an unspecified future that lies somewhere on the other side of a hazy horizon.
The worst type of LDR is the one in which the participants are within the same space, separated not by a physical gap but by existential miles. And in the lower tier of that tranche lies the cartographer's conundrum described by Drinking Mercury's 'Stay Home,' a problem of projection created when the distance from A to B does not equal the distance from B to A.
The dilemma cannot be resolved – cannot be discussed even – if it cannot be perceived. And until the division is defined, its impact remains theoretical even though the symptoms of loss are measurable in real time.
When we are apart there's no hope
When we are apart there's no hope
It's not so easy to see
It's not so easy to do
It's not so easy to see
But it'll have an effect on you
Have an effect on you…
'Stay Home' recalls the music of previous eras when all relationships were local because no one left home. The song floats in the echo chamber shared by the studios that captured 60's psychedelia and 80's pop, the gaps between the acoustic tiles filled by a synthesizer lifted from the intervening decade. A jangly guitar break nods to a visitor passing down the hallway on a trip from Laurel Canyon.
Based in Lansing, Michigan, Drinking Mercury comprises Kevin Adams (drums), Michael Boyes (vocals, guitar), Tommy McCord (guitar, vocals), and Timmy Rodriguez (bass, keyboards). 'Stay Home' appears on their new self-named twelve-song album, released on GTG Records. Recorded in a cabin in northern Michigan, the LP is described as folk-influenced psychedelic indie rock and dream pop. It's a wonderful album, slightly nostalgic, each track following a different path through the midwestern woods.
Drinking Mercury's music is available from GTG Records and on Bandcamp, Spotify, Amazon, YouTube, and Apple Music. And be sure to follow Drinking Mercury on Instagram and Facebook.