K. Campbell – Static Threads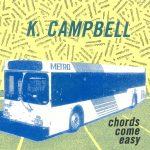 For me, playing a guitar is like the ancient art of weaving. It's about more than one player. At our best, me and Ronnie make the Bayeux Tapestry onstage. — Keith Richards

The front of a tapestry is art. In the hands of a skilled weaver it displays incredible artistry and fine detail… The back of a tapestry is a mess. — Tim Challies
A song is a tapestry woven by a musician. The creation is unfurled by the artist to await the world's judgement, each hand holding forth an upper corner, the fabric forming a curtain between the weaver and the listener. We hear the front of the tapestry; the musician hears the knots and tangled threads of the back: the unmixed tracks, the discarded takes, the buzzing frets, the melodies that didn't work, the lyrics crossed out and re-written.
With 'Static Threads,' K. Campbell gives voice to the joys – and frustrations – of gathering a pile of loose yarn and transforming it into music. As K. Campbell shared with us, 'Static Threads' and its flip side, 'Chords Come Easy,' are 'songs about songs, and the act of writing songs… A way of talking about writing songs and putting your experiences into words, and writing and recording and layering – or weaving – parts together to create a whole piece.'
staring at the floorboards once again
the place where we rest our bones is beginning to wear thin
you kiss me on the cheek
and then you turn to leave
and these two hands begin to slowly weave
static threads
K. Campbell has intertwined strings of rock, folk, and power pop to create an excellent, singable cloth. The chorus, underlain by a simple but memorable guitar line, will stay with you long after the needle finds the final groove. I've been carrying 'Static Threads' around in my head for a few days now. I especially enjoy the notes that ping across the upper register, and the perfectly pitched harmonies.
Based in Houston (locals will recognize the Metro bus in the album art), K. Campbell describes his music as 'all about taking the precision and refinement of classic power-pop songcraft and filtering it through the raw spirit and aesthetic of the DIY punk and hardcore that I grew up on.' He is a former member of Die, Emperor! Die!, a hardcore/emo band that developed a cult following in Houston during the early 2000's.
Today's track is K. Campbell's second Song of the Day; earlier this year we featured his previous single, 'Heads Up.' When he isn't creating his own music, K. Campbell runs Poison Moon Records, a label that gathers a diverse set of artists including Clare, Bask, and Pearl Crush. To learn more about K. Campbell and Poison Moon Records, visit this nice feature in Melted Magazine.
K. Campbell's music is available on Bandcamp, Spotify, and Apple Music. And be sure to follow Poison Moon Records on Instagram and Twitter.