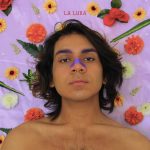 Each minute we spend worrying about the future and regretting the past is a minute we miss in our appointment with life – a missed opportunity to engage life and to see that each moment gives us the chance to change for the better, to experience peace and joy… To be beautiful means to be yourself. You don't need to be accepted by others. You need to accept yourself. — Thich Nhat Hanh
The most difficult Relationship to maintain is the one we have with ourselves, a tenuous threesome comprising Who I Was, Who I Am, and Who I Will Become. It can make for an uncomfortable bedtime if Past Self is loathed and Future Self is not trusted, especially when all three heads of the Hydra are expected to share the same pillow.
In 'Garden State' Graves sings, not to Someone, but to their own soul: the person who stares back from the mirror, or perhaps the image that was reflected yesterday and whose shadow still darkens the wall in the background. Having reconciled with their Past, they now look forward to their Future.
Until the day I die
I'll live for myself while loving you 
Cause that's the best thing I can do
I feel so free for the first time in a while
I can finally be me
When I'm with you there's only good dreams
Running through my head
And the nightmares no longer hold me hostage in my bed
Underscored by a chorded keyboard emulating a Hammond organ, 'Garden State' is a wonderfully arranged testament. Graves' voice speaks with unadorned beauty, startling in its simple clarity. Listen for the gently muted string section that twice rises from the shadows in the back corner of the stage, then steps back behind a single guitar.
Graves is Andrew Acevedo, who self-describes as a 'Latinx lofi/bedroom pop musician from Miami,' and adds 'I'm tired.' Today's track is from their new ten-song album, La Luna. It is an album in the best way, ten tracks that create a whole rather than a collection of unrelated songs.
La Luna represents a significant step beyond the previous Graves releases. 'I really wanted to make this my best effort yet,' Andrew told us. 'Compared to my last three EPs, which took a month each to make, La Luna was almost two years of work.'
Graves' music is available on Bandcamp, Spotify, and Apple Music. And be sure to follow Graves on Twitter and Instagram.