Love Strangers – Trouble Bag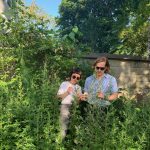 From the moment we descended out of the trees of the Serengeti – a decision we immediately regretted when we found ourselves pursued by an enormous carnivore comfortably ensconced on four legs and baring a magnificent set of teeth – we have been running from or to something.
The from and to of the matter becomes a fluid concept when one abandons a base for a locale that, upon entry, becomes home. The Joads reluctantly fled Oklahoma for California, but a generation later you couldn't pry them out of the orange groves with a sharp stick. Today the Joads' descendants regard their dusty stay-at-home relatives as veritable heathens whose idea of a charcuterie board is a can of Vienna sausages and a pack of Saltine crackers.
With 'Trouble Bag,' Love Strangers describe a person packing light and fleeing fast. The nature of the dilemma is unclear. But if the source of the trouble is yourself, then the cat will be waiting to spring from the bag as soon as it's opened. If the wellspring of dissatisfaction is a relationship, then you won't need a bag to carry it; that sucker will just sit on your shoulder and ride along, whether the destination is Canada or incarceration.
The track kicks off with a classic riff, a dash of Cotton Jones deja vu but with an easy freshness that makes running from trouble sound rather appealing, the rhythm of the wipers replacing the tappets of the Joads. Listen for the perfect mesh of the vocals, the scratchy lead seconded by the stronger harmony.
Love Strangers – also known as LSD or Love Strangers Duo – is Ryan Major (guitar, bass, vocals) and Ashley Holzwasser (vocals), ably backed by Ignacio Gonzales (drums) and Ian Doerr (percussion). Based in Boston, the band self-describes as just regular music. This marks Love Strangers' second Song of the Day; last year we featured 'Ekaterina' from their album Lonesome Friendly. The track is worth another spin: you will never again hear a song that rhymes Ekaterina, concertina, tambourina, and Argentina.
All proceeds from the sale of 'Trouble Bag' will be donated to the Refugee and Immigrant Center for Education and Legal Services. You can support this organization by visiting the Love Strangers Bandcamp page and downloading 'Trouble Bag.' Or you can donate directly at www.raicestexas.org. And be sure to follow Love Strangers on Spotify, Facebook, and Instagram.