Chris Twist and Jason Steady – A Garden Grows II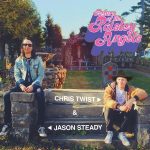 Dear Eli, I'm in the middle of the ocean. I haven't left my room in four days. I've never been more lonely in my life, and I think I'm in love with Margot… For the past year he had been traveling alone on an ocean liner called the Cote d'Ivoire and had seen both poles, five oceans, the Amazon and the Nile. — from The Royal Tenenbaums
Longing is the agony of the nearness of the distant… We would like only, for once, to get to where we are already. — Martin Heidegger
Run away. Run as far away from the yellow rose as your tether allows. Pay out the twine from its ball until the hard spool begins to show in glimpses between the threads. Then the twine is re-wrapped around itself, drawing you home until you run aground on the pier, waiting for the Green Line bus to arrive – as usual, late – and its passenger to step in slow motion onto the pavement as 'These Days' plays on muted nylon strings.
In 'A Garden Grows II,' Chris Twist and Jason Steady explore the tether of the unbound, of which Heidegger wrote, 'Freedom is only to be found where there is burden to be shouldered.' The travels and travails are defined, not by an endless horizon, but by a love to which he must someday return.
A garden grows 'neath a single yellow rose
That's where my love lies like a stone
A hidden field with its crop come up to yield
And I know some day I'll make it back home
'A Garden Grows II' floats somewhere between a Buffetty beach and an Appalachian fishing hole. This is country music, not the Nashville faux-country variety, but the real stuff, made by people who wear thrift store Chuck Taylors below the jean jacket that's always on a hanger within easy reach at the front of the closet.
'A Garden Grows II' is from the new album by Chris Twist and Jason Steady, Return of the Paisley Angels. The collaboration sparked to life when Jason said, 'Hey Chris, if you have any songs that need pedal steel on them, send them to me and I'll totally add pedal steel to them.' The result was a collection of 'songs about driving fast and songs about driving slow and even songs that aren't about driving at all.' The tracks feature Chris, of Chicago band Slushy, on vocals, guitar, bass, and harmonica. Jason, based in Omaha, provides vocals, guitar, pedal steel, and drums.
Today's track is a remake of a song previously released as a solo effort by Chris on his album, Hello, I'm Chris Twist. The original is worth several listens. Same song, completely different style, also good.
You can support deserving independent musicians like Chris Twist and Jason Steady by visiting their Bandcamp page and downloading Return of the Paisley Angels. Be sure to follow Chris Twist (via Slushy) on Facebook, Instagram, and Twitter. And follow Jason Steady on his website, and on Facebook, Instagram, and Twitter.