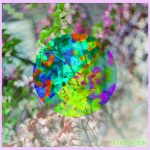 Etiolation is a process in flowering plants grown in partial or complete absence of light. It is characterized by long, weak stems; smaller leaves due to longer internodes; and a pale yellow color. — Wikipedia
When in the dark night of suffering sagacity cannot see a handbreadth ahead of it, then faith can see God, since faith sees best in the dark. — Kierkegaard
Faith endures many forms. It is our faith in humanity that allows us to step forth from our homes, confident that we will return, protected not by an official's badge but by the benevolence of our fellow travelers. If one of our number fails to complete the homeward journey, we are outraged by the violation of our unspoken compact.
To develop into a being worthy of humanity's trust requires faith in the self, the sometimes irrational belief that a soul can sprout from the primordial ooze of childhood and develop into an actual plant, identifiable by its blooms and spreading leaves. In 'Etiolation,' Nibiru confronts an earthly passenger – the one seen beyond the mirror – struggling to thrust a tendril between mossed-over paving stones and creep, fearing footfalls, into the sentient universe.
and you who all told me
to bloom where i'm planted
uprooted me before i could
i'll learn to thrive
in the absence of light
'Etiolation' is a wall of Spectorian sound, the perfect merging of art and pop. A guitar for the ages cuts sharp pirouettes over an adrenalized rhythm section as chimes echo nearby. Listen to 'Etiolation' while gazing at your garden suffering, not from darkness, but from an overabundance of sunlight, the marigolds blazing but gasping, the impatiens clinging to a fringe of shade and wondering 'How long?'
Nibiru self-describes as 'noise not music; raw pop.' Based in St. Louis, the band comprises Ben Osborne (guitar), Mark Plant (synthesizers, drum machines, vocals), and Simone Sparks (bass and vocals). 'Etiolation' is from their latest six-track EP, Etiolation. We previously featured 'Careening,' also from Etiolation, a song describing the inevitability of fate, our inability to avoid a boulder that is, was, and always shall be rushing to impact our existence.
You can support deserving independent musicians like Nibiru by visiting their Bandcamp page and downloading Etiolation. And be sure to follow Nibiru on Facebook, Instagram, and Spotify.