Farrow and the Peach Leaves – Flowers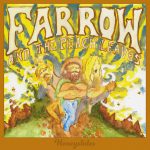 If you've been planning to blow out your speakers just one more time, but were waiting for the right song to come along and do the honor, I have good news: your wait is over. Dial up 'Flowers' by Farrow and the Peach Leaves and… Crank. It. Up. I'm talking turn it up to scare the cats volume.
The track begins innocently enough, with a softly-strummed acoustic guitar, before the bomb bay doors swing open and you're hit with a wall of rootsy rock that recalls everything good about the country, with a rough-around-the-edges honesty that is as real as the heartache you felt last winter and as timeless as the knowledge that it will probably happen again.
'Flowers' speaks to someone in a long-abandoned county in my soul, where a hand-written letter is stuffed into an envelope that bears no street name, just a route number and the trust that the mailman, sitting in the middle of his rusting car's bench seat, left hand on the steering wheel and right hand reaching out to the unpainted mailbox, knows everyone who lives along that chert-strewn dirt road.
The track turns the Rolling Stones' 'Dead Flowers' on its existential head. Our man knows no one will remember to put roses, dead or otherwise, on his grave. Well I know, nobody gonna bring flowers for me. The chorus summons the vision of my grandparents' church, where the shape-note singing, led by Brother Harry, had no accompaniment or choir, yet the call-and-response harmonies fell into perfect place.
'Flowers' is from Farrow and the Peach Leaves' new nine-song album, Honeyslides. Listening to this album, I hear a band about to burst through that weathered barn door that separates a good club band from whatever lies lay upon The Other Side. My advice: check their schedule and see them now. By this time next year, their number of Facebook followers will have doubled.
This marks our second Song of the Day from Honeyslides. We previously featured 'Goddamn,' the album's first single. Both 'Flowers' and 'Goddamn' are already on our list of the Best Songs of 2019. And Honeyslides is at the top of the list for Best Album. I've been playing it all day. The band, based in Nevada City CA, self-describes Honeyslides as running 'the country spectrum, from smoky honkytonks and strung-out drug runs, to the particular California country grief only found in Nevada County.'
You can support deserving independent musicians like Farrow and the Peach Leaves by visiting their Bandcamp page, listening to their songs, and downloading your favorite tracks. And be sure to follow Farrow and the Peach Leaves on Spotify, Facebook, Instagram, and YouTube.
Bonus Track: 'Let It Roll,' from Farrow and the Peach Leaves previous album, Country Wednesdays. Just take a toke and let it go.