Sergio Ouellet – Mes Démons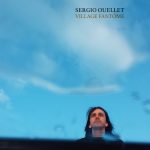 Hi, it's me again. Fluffy the Cat. I haven't written any log posts lately because the Food Guy hasn't needed my help. But today he has a pre-existing condition to shovel dirt in the garden, and he said I could write a Song of the Day log post. So I went on Bandcramp and found a good song called 'Mes Démons' by Sergio Ouellet.
Sometimes I have trouble understanding what songs are about because, being a cat, I have a fairly limited range of experiences. My life is pretty much eating, sleeping, staring out the front window, and carrying around a ball of green yarn. If your song falls outside those realms of endeavor, I'm probably not going to get it.
'Mes Démons' presents an additional challenge in the understanding department because, as far as I can tell, Sergio Ouellet is not singing in the same language that the Food Guy uses. Maybe he's just using bigger words than the Food Guy uses. I'm mean, have you read his stuff? Run-on sentences much? So anyway I'm not really sure what Sergio Ouellet is saying but I'm pretty sure it's not 'Come get your tuna.'
So since I don't understand what the song is about, I will make something up. This song is about staring out the front window and watching the people on the street and wondering where they are going. And you see a stray cat on the street and you look at each other and for some reason you both want to trade places.
Sergio Ouellet's kitty bed is in Québec City, which is in 'Canada.' The Food Guy showed me 'Canada' on a map. It was only a few inches from our house, so maybe I will trot over there to visit Sergio this afternoon. I use that joke in every log post and I'm going to keep using it until somebody laughs. So if you laughed, email the Food Guy and Iet him know.
'Mes Démons' is from Sergio Ouellet's new ablum – I mean album – Village Fantôme. The Food Guy helpfully suggests that Village Fantôme means Village Phantom. Uh, yeah, I think I could have sounded that one out on my own. Goober Translate says it means Ghost Village. Whatever you call it, it's good music, the kind of music cats like to listen to when they are staring out the front window.
The Food Guy always ends like this: You can support deserving independent musicians like Sergio Ouellet by visiting his Bandcramp page, listening to his songs, and downloading your favorite tracks. And be sure to stop by Sergio's website, and follow Sergio Ouellet on Stopify, Facecrook, Instantgram, Tweetter, and BlueTube.