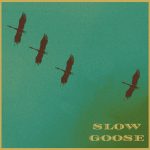 All at once Jukes understood he would have to go.
'Do you think she may?' he screamed.
But the wind devoured the reply, out of which Jukes heard only the one word, pronounced with great energy '…Always…'
— from Typhoon, by Joseph Conrad
Jukes clung to his captain, an unimaginative man who could not conceive of avoiding trouble because he could not imagine the trouble itself. But as the Nan-Shan plowed into the cataclysmic cyclone, the captain's constancy, his thought only to keep bearing into the wind and trust Rout – good man – to keep up the steam, saved ship, Jukes, and the two hundred laborers who had fetched away in the fore-'tween deck.
Sometimes you need poetic prose and sometimes you need a simple statement: I will always be there for you. It is that for which we all have searched, are searching, will be searching. Isn't it? Those of us, at least, who aren't sociopaths. 'Always,' by Slow Goose, makes that declaration in pop-folky figures and British Invasion washovers.
'Always' has that timeless quality that imprints the best music, slightly upbeat with a twinge of sadness lurking in the shadows of the corners. A soft piano plays in the back of the mix, mirroring the melody, and is rolled to the front of the smoky stage for a beautiful solo.
'Always' is from Slow Goose's new self-titled five-song EP. Each track creates a unique listening experience that spans and expands folk, rock, country, and psychedelia. I especially enjoyed 'Sally's House,' an instrumental suite with some fascinating lead guitar work. Based in British Columbia, Slow Goose is a solo project of Joe Gibson, previously of the Torture Chamber. On the Slow Goose Twitter page, we learn that 'Always' was written for Joe's six-year-old daughter.
You can support deserving independent artists like Slow Goose by visiting their Bandcamp page, listening to their music, and downloading their album. And be sure to follow Slow Goose on Twitter.
Bonus Track: 'Slow Goose (The Song)' features an arrangement that could have been recovered from After the Goldrush. I had originally planned to feature this song, but I couldn't pass up the chance to use the '…Always…' line from Typhoon, one of my favorite stories. Enjoy!