Saturday's Radio – All That Shines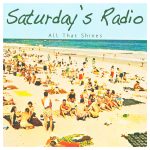 Summer percolates just beyond the horizon. It may not seem as such if you are in Minnesota buried beneath four feet of snow. But here in Houston, where the Earth is flat and the sky meets the sand at an indiscernible meridian hidden in the haze, we alternate between Summer and our current season of Early Fall. The ash trees have sprouted anew, the buds crowding amongst last year's leaves that never fell and are still green on the branches.
I look forward to the effects of Global Warming – I mean Climate Change, since both warmer and colder temperatures are laid at the metallic feet of the internal combustion engine – which will grant us the Endless Summer of our fantasies. I plan to spend the ensuing years combing the beach for Co-Cola bottles that I will redeem at Pop's Grocery for three cents apiece. I'll use the profits to buy packs of Topps baseball cards, not because I need another Pete Richert card (at one time I had five) but because I really like the bubble gum.
Saturday's Radio celebrates the impending Summer with 'All That Shines,' a glorious warm weather mess that seems about to blow apart at the buttons like the blouse of that girl who works at the Dairy Queen across the road from the record store. The track features Beach Boys harmonies, Eagles woo-hoos, Velvet Underground guitars, and an unhinged Phil Spector wall of sound. TL;DR: 'All That Shines' is a 1968 mist green Impala full of fun.
Saturday's Radio is Rob Christensen of Margo, Virginia. 'All That Shines' first appeared in 2017 as a Maxi Single (five tracks including acoustic, instrumental, wordless, and mono versions), and was later included on the ten-track album Ghosts. We previously featured 'Song for Sophie,' another outstanding track from Ghosts. The album was entirely written, performed, and produced by Rob. He describes Saturday's Radio as an 'ongoing indie folk / power pop music project… influenced by the likes of REM, Tom Petty, the Beatles, Bob Dylan, and Wilco' as well as by 'Neil Young, the Replacements, Bob Mould, Pixies, Joni Mitchell, the Beach Boys, Jason Isabell, the Who, the Kinks, Elliott Smith, and so many more.' Besides Ghosts, there are five additional Saturday's Radio albums available on Bandcamp.
You can support deserving independent musicians like Saturday's Radio by visiting his Bandcamp page, listening to the songs, and downloading your favorite tracks. And be sure to follow Saturday's Radio on Facebook, Twitter, Instagram, YouTube, and on saturdaysradio.com.
Bonus Track: 'Best Man,' a beautiful folky poppy tune from the 2013 album Roses for Sharon. Enjoy!