Saturday's Radio – Song for Sophie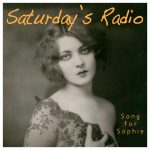 "Song for Sophie," by Saturday's Radio, is a warm blast of folk and rock, a mass of voices and guitars that invoke a one-more-vocal-track-here aesthetic in which Harmony Is Good and melodies and choruses are carried along by the instrumental tracks rather than suffocated like a bug under a sofa cushion.
"Song for Sophie" kicks off with sharp snare shots, joined by multiple guitars and a soft organ gently roiling the submerged waves. A surfy murky guitar solo bridges into the final verse and wraps up the conclusion. The collective star of the show is the vocal assemblage, bringing life to a melody that, while basic, will be pleasantly stuck in your head for the remainder of the evening.
As a Certified Music Journalist, I am obligated to inject at least one Obscure Reference into each post. If I don't, the union will send a spindly-legged hipster wearing cargo shorts and Vans to my house to rip that coveted Music Press card from the hatband of my Fedora. He may not look like much, but he's royally ticked about having his Fortnite marathon interrupted. So my Obscure Reference for today: "Song for Sophie" summons the spirit of the Traveling Wilburys' "End of the Line," as sung by Elvis Costello and produced by Richard Perry. It's difficult to place a finger on the exact trigger of the Deja Vu, but it's something about the melody and the way the words extend beyond the chord changes.
Saturday's Radio self-describes as "Rob Christensen's ongoing folk rock (& stuff) project." Rob is based in Margo, Virginia, which is a half-day's march west from Spotsylvania Courthouse. "Song for Sophie" was "written, performed, recorded, and produced" by Rob. He recorded his first album in 1994, so this isn't Rob's first rodeo (obviously).
"Song for Sophie" is available on Ghosts, a 10-song album released last year, and on a 4-song maxi-single which appeared in March. The maxi-single includes our Song of the Day, plus acoustic and instrumental variants. The instrumental version kicks ass. I was absent-mindedly listening to it while cyber-stalking Rob Christensen – looking for interesting things to write about him, you know – and caught myself whacking my right foot against that sheet of plastic that people place beneath their desk chairs so that the wheels roll instead of becoming mired in the piles of the carpet. And I only say that to support my claim of writing this at an actual desk and not in a Taco Bell parking lot after midnight as has been alleged. Among the interesting things that I learned about Rob Christensen: he has been a contributor to Tape Op, a magazine dedicated to music production. So it's a safe bet that Rob knows something about recording, which explains why "Song for Sophie" sounds a strake above the typical DIY track.
You can support deserving independent musicians like Saturday's Radio (aka Rob Christensen) by visiting his Bandcamp page, listening to the songs, and downloading your favorite tracks. And be sure to follow Saturday's Radio on Facebook, Twitter, Instagram, YouTube, and on saturdaysradio.com.