Chaotic Bride – Just A Little Bit More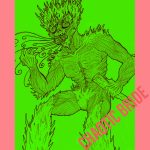 What is your existential earwig, that driver of desire that crawls into a metaphysical opening and burrows deep into your brain to reside there, tapping its tiny talon on your cerebral cortex, driving you daily to seek… what? Love, money, a better overdrive pedal? Do you lower your gaze to the array of pedals at your feet, each representing a singular relationship with tone but together creating a nihilistic cacophony and say I need more…?
In 'Just A Little Bit More,' Chaotic Bride explores a soul trapped in Kierkegaard's Aesthetic Stage, a person addicted to the intensity of innervation experienced through the interaction with an individual. If one is lucky, that person is encountered late in life, when one is too old and tired to do anything other than sit on the couch, watch Seinfeld, and enjoy it. If your earwig is your First Love then, by the time you reach three score and ten, your Emotional Pedalboard will no longer fit in the trunk of your car.
'Just A Little Bit More' is a true scorcher, power pop with emphasis on the power. The track opens with a call-out-the-National-Guard guitar and surges into the musical equivalent of a beat up 1975 Cadillac Eldorado careening down a dirt road after midnight while the radio with a short in the left speaker blares Bram Tchaikovsky's 'Girl of My Dreams.'
Chaotic Bride is Phil Julius of Davis, California, joined by Joey Loiacono on guitar. If you're keeping score at home, Phil played the opening lead line, with Joey providing additional solos and harmonies. The band describes its music as 'a mixture of our love of the bands Television, the Ramones, and the Beach Boys, combining sweet harmonies, crunchy bass, and scorching, intertwining guitar leads.'
We previously featured Chaotic Bride's first single, 'Magnetic Love,' which we tagged as 'a righteous romp recalling those days when guys who grew up listening to Hank Williams (senior) picked up Les Pauls and set the world on fire.' Since then, the band has gained some traction, playing live dates and being featured on KDVS's (90.3 on your FM dial) Best of 2018 show.
You can support deserving independent musicians like Chaotic Bride by visiting their Bandcamp page, listening their songs, and downloading your favorite tracks. There's only three of them, so you might as well spring for the entire lot. And be sure to follow Chaotic Bride on Facebook, Instagram, Twitter, and Soundcloud.