Chaotic Bride – Magnetic Love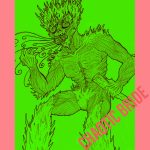 Chaotic Bride's "Magnetic Love" is a righteous romp recalling those days when guys who grew up listening to Hank Williams (senior) picked up Les Pauls and set the world on fire. Rock, pop, punk, and country each take a turn at the wheel as "Magnetic Love" careens through two-minutes-nine of harmonies, humbuckers, and hot melodies. Listen to "Magnetic Love" as you accelerate toward the drive-in on the edge of town that is no longer there, either the drive-in or the town and possibly not your car that was repossessed last Wednesday when it was parked in front of the county library as you were inside checking your Facebook page on the public computer. But wherever and however you listen, listen to "Magnetic Love" loud and often.
"Magnetic Love" jumps out the door fully formed, a mess of guitars soon joined by a vocal that recalls early Elvis Costello. It's a powerful punch, a wall of sound that rocks but doesn't forget that the best rock has a melody that you can take home after the show is over. The star of the show in question is the lead guitar, with solos and fills out the proverbial wazoo (I can't believe I used the phrase "proverbial wazoo"). The only advice I have is to crank up that cowbell that appears around the one-minute mark. What? No, I'm not going to say it…
Both of our regular readers know that the paragraph after the Bandcamp thingy is reserved for the Obscure Reference, our opportunity to display our Encyclopedic Knowledge of Popular Music. The Obscure Reference for today: "Magnetic Love" brought to mind "Walking With a Mountain" from Mott the Hoople's Live album. You can draw a not-too-curvy line from Ariel Bender's guitar solos to those in "Magnetic Love." What? Yeah, I know in the first paragraph I said "humbuckers" and Ariel Bender had a P-90 on that Les Paul Jr. What's your point?
"Magnetic Love" is from Chaotic Bride's new three-song EP of the same name. This is the part where I tell you something interesting about the artist. But I don't know nothin' 'bout no Chaotic Bride other than they/he are/is from Davis, California. The social media accounts are new, but I have a feeling that the person or persons behind Chaotic Bride have been around for a while. I don't think this is his first rodeo and, if it is, congratulations on finally escaping from your mom's basement.
You can support deserving independent musicians like Chaotic Bride by visiting their Bandcamp page, listening their songs, and downloading your favorite tracks. There's only three of them, so you might as well spring for the entire lot. And be sure to follow Chaotic Bride on Facebook, Instagram, Twitter, and Soundcloud.