YUTZY – Every Girl That I'm Into Seems to Love Cigarettes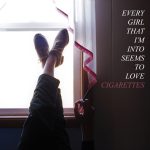 I think about the mistakes and
I know it's alright
Because if perfect's the goal
I'd fuck it up every time
– Scott Yutzy, 'Every Girl That I'm Into Seems to Love Cigarettes'
If perfection is your goal then you will be an underachiever, in Life and in Love, two realms of endeavor that sometimes seem only tangentially related. If your goal is to find a Soulmate who loves cigarettes less than they love you, then you should go down to Planet Fitness and stake out a spot on an elliptical machine just behind the treadmills, then wait for someone who can go at a brisk trot for upwards of thirty minutes. Or just drive around until you see someone with one of those 13.1 stickers on their car (avoid the 26.2's, trust me). You may not find your Love, but you will at least filter out the lovers of unfiltered Camels.
In 'Every Girl That I'm Into Seems to Love Cigarettes,' YUTZY casts back on nights spent drinking PBR, and that girl from up north that he liked being with but didn't love, and fast-forwards over a year to the present when he is just trying to grasp – things, anything – that make him feel alive. 'Every Girl That I'm Into Seems to Love Cigarettes' is a seriously good song. Or, as I said to my wife if we rewind to the thirty-minute mark, 'This is really good.' At which point she lowered her gaze to meet mine, our eyes locked for a brief, smoldering interlude, and she murmured, 'Yeah. It is.'
YUTZY is Scott Yutzy of Wichita, Kansas. 'Every Girl That I'm Into Seems to Love Cigarettes' was written, recorded, produced, and performed by Scott (with help from some friends on the group vocal). YUTZY is an artist whose talent greatly exceeds his social media following. We previously featured 'Love,' from YUTZY's eleven-song album, Lush. 'Love' featured 'a massed overdubbed chorus populated by several living and dead Beach Boys and a few members of Queen.' I'll put Scott Yutzy's voice up against anyone's, I don't care how many 'Likes' their Facebook page has.
You can support deserving independent musicians like YUTZY by visiting his Bandcamp page, listening to his songs, and downloading your favorite tracks. And be sure to follow YUTZY on Spotify, Facebook, Twitter, Instagram, and YouTube.
Bonus Track: 'Love' deserves another listen!