Cowboy Grizzly – Southern Rider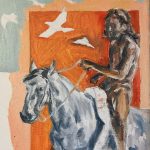 Cowboy Grizzly's 'Southern Rider' paints a beautifully shimmering portrait of the southwest, a land whose yellow Guadalupe violets have been driven into a high-desert corner, but whose soul is carried in the gritty sand between the toes of its tanned orphan children. Alter the picture slightly, then repeat to create the frames of our movie, Southern Rider, the story of a son and his father and a palomino pony and their lives that whistle in the wind.
'Southern Rider' opens with a gentle, comforting guitar line that introduces an amazing vocal. Have your finger ready on the rewind button, because you will want to hear the first note of the second line again. The song triangulates in that magically resonating region between jazz, rock, and folk. It is of the country without being country.
Cowboy Grizzly is Grant McMahan, formerly of Arlington, TX but now of Austin, who provides all instruments, vocals, and songwriting. 'Southern Rider' is the title track of his new five-song EP. On the EP's Bandcamp page, Grant tells us, "I recorded this EP during the summer of 2018 at the old house that I used to live at in Arlington, TX. I wrote these songs about relationships with friends, family, lovers and how complicated it can all get. I think of this EP as a kind of companion piece to my first album; they are similar stylistically and thematically."
Cowboy Grizzly's first album, Mockingbird, was the best album released in 2018. I am fully confident in my ability to defend that claim, and I am looking forward to Mockingbird and Southern Rider being released together as a remastered collector's edition twenty years from now. We previously featured Mockingbird's 'Wash Away.' Choosing a song to represent Mockingbird was difficult, as any one of the album's nine tracks could have been a Song of the Day. Here's 'Oasis,' a song from Mockingbird that seems to have been the product of a collaboration between CSNY, the Beatles, and Mazzy Star.
You can support deserving independent musicians like Cowboy Grizzly by visiting his Bandcamp page, listening to his songs, and downloading your favorite tracks. And be sure to follow Cowboy Grizzly on Facebook, Instagram, Twitter, and Spotify.
The beautiful album art for both Mockingbird and Southern Rider was provided by Jonathon Pinto. You can see more of Jonathon's amazing art by following him on Instagram and Twitter.