Cowboy Grizzly – Wash Away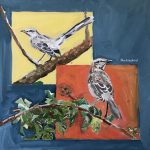 "Wash Away" by Cowboy Grizzly is a magical suite of textures that… OK, I'm at a loss for words here. I want to say something really poetic or insightful, like you would read on those big-time music journalism sites. But, to be honest, when I heard this song the first thing I thought was, "Wow." I've been sitting here for two hours trying to think of a better way to say it. And the best I can come up with is, "Wow."
Cowboy Grizzly is Grant McMahan, who provided all of the instruments and vocals. His voice is the strength of "Wash Away." The clear, sustained notes are often layered into beautiful harmonies, and the vocal excursion just before the three-minute mark reveals a range not seen in your typical folk singer. The melody and minor chords have a vaguely Native American feel.
"Wash Away" is from the newly-released album, Mockingbird. Each of the album's nine tracks is Song of the Day quality, and the songs hang together. The aggregate has the feel of a concept album, rather than a collection of individual tracks. This might be the release that restores your faith in the album as a viable artistic endeavor. I don't know much about Grant other than the usual stalker fare available from social media. He is/was in a band called Black Hills. On his Bandcamp page, he describes Cowboy Grizzly simply as "the solo recording project of Grant McMahan, based in Arlington, Texas."
You can help support deserving independent musicians like Grant McMahan/Cowboy Grizzly by visiting his Bandcamp page, listening to his music, and downloading your favorite tracks. In this case, you will want to download the entire album.
Bonus Song of the Day: "Just a Day." This was my second choice for SOTD. As a Certified Music Journalist, I'm obligated to make at least one Obscure Reference in each post. So I'll say that "Just a Day" brought to mind "Sunset Gates" by Gomez. A subtle guitar hook carries the song along, but the harmonizing vocals are what lend the track its unique beauty.
Wow.