Janis Joplin – Cry Baby (Live)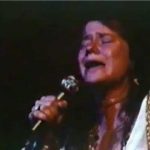 There was a time when singers did not need auto-tune, backing tracks, costume changes, or a crew of dancers. They just got up on stage and belted it out. Janis Joplin was and is one of the greatest singers to stalk a stage, delivering her blues with a comforting hand on your shoulder and a powerful fist to your gut. Her performance of "Cry Baby," recorded in Toronto in 1970, is simultaneously moving and amazing. Yeah, she's probably drunk, stoned, strung-out, got the junkie itch, often flat, all of the above. But it's pure, honest, raw, human emotion. Can you imagine Beyonce giving this performance? It would cause a major scandal. But this is what the blues were supposed to be. If you can make it through this video without feeling that twinge where your throat meets your sternum, then I honestly feel sorry for you. Every time I watch this, I try to squeeze out a little more pitch, to help her hit those high notes. Usually, she doesn't.
"Cry Baby" was written by Bert Burns ("Twist and Shout") and Jerry Ragovoy ("Time Is On My Side"), and first recorded, in 1963, by Garnet Mimms and the Enchanters. In September, 1970, Janis Joplin and her Full Tilt Boogie band (the same band heard on the video) recorded the studio version later released on Pearl. Janis died of a heroin overdose, at the age of 27, before the album was fully completed. "Cry Baby" was released as a single, backed with "Mercedes Benz."
Janis Joplin's music is available on Spotify, iTunes, and Amazon.