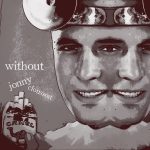 In "Without," Jonny Clousson pauses to ask for directions – with or without? – then floors the accelerator and steers his Relationship into the deep end of the swimming pool, all speakers blazing with pure punky pop energy. The relationship in question could be with a formerly-significant other, the car that has a floorboard paved with cast-off memories but that refuses to start when you're late for work, or that sort-of friend to whom you gave your Netflix password in a moment of weakness but that you really don't want to hang around with if you can find literally anything else to do on a Friday night. The song is allegedly about giving up cigarettes, but if the number of E's on your lover's back changes each time you count them, then it's time to kick that habit, too.
"Without" is a wonderfully noisy mess with all of the Lo-Fi earmarks that leave marks on your ears. An infectious folky swing below multiple guitars carries the process along nicely, lending "Without" a not-too-serious air, perhaps reflecting the emotional uplift one gets when the words I Quit are finally uttered and the pack, the person, or the oil filter is left in the ditch beside the road down which you have no intention of driving again. Listen for the background vocals that chime in at intervals like that crowd of people who squeeze onto your couch and back up whoever is winning whatever argument is being contested.
Jonny Clousson self-describes as "a singer-songwriter who lives in Philadelphia." He is (was?) also a member of Almost People, based in Durham, North Carolina. "Without" appears on his recently-released three-track EP, Two Cents. Jonny will be appearing this Saturday, August 11, at Amalgam in Philadelphia. And, looking farther down the road to October, you can catch Jonny Clousson at The Fest 17 in Gainesville, Florida. I'm going to "borrow" his bio from The Fest website because it's worth stealing: "Jonny Clousson is a songwriter who was last spotted living in Philadelphia. He has no known native habitat and can adapt quickly to his surroundings. Please be on the lookout for all sightings of Jonny Clousson."
You can support deserving independent musicians like Jonny Clousson by visiting his Bandcamp page, listening to his songs, and downloading your favorite tracks. And be sure to follow Jonny Clouson on Facebook, Twitter, and Instagram.