Noah Roth – Abandoned Properties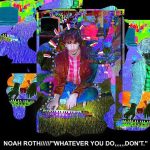 Noah Roth's "Abandoned Properties" speaks to anyone who is lucky enough to have experienced the fraying and inevitable rending of a relationship. Lucky, because you can cross that one off your bucket list and move on with your life. It's okay to look back and attempt to make sense of things. "Abandoned Properties" takes that last glance back over the shoulder – don't turn around, just keep walking – and frames the epilogue in a letter that will never be sent.
"Abandoned Properties" has a simple but compelling arrangement, beginning with folky rocky chords and building tension by layering on more instruments, all played by Noah, and a nice display of altered dynamics. The real hero is the lyric sheet, bearing words that address the Human Condition with a maturity that gives one pause, considering that Noah Roth is somewhere south of two decades on the planet.
And I'm counting seconds on the clock
Drilling holes in your head each time we talk
And I'm still waiting
To get through
And when he wakes up
Will he remember you?
And all the abandoned properties
That the two of you broke into?
"Abandoned Properties" is from Noah Roth's new 11-song album, Whatever You Do, Don't, released on Sematary Records. We previously featured "800 Miles" and "Only a Phone Call Away" from Noah's 2016 album, Eyes Wide Open, Staring at the Sun. "Abandoned Properties" is melodically similar to "800 Miles," but represents a stylistic and musical step forward. It's now safe to say that Noah Roth is the Real Deal. He's edging into Kevin Devine territory here, with many miles of open road ahead.
You can support deserving musicians like Noah Roth by visiting his Bandcamp page, listening to the songs, and downloading your favorite tracks. In addition to "Abandoned Properties," I recommend "A Good Start" and "If I Talk Too Loud." And be sure to follow Noah Roth on Facebook, Twitter, and Instagram.
And don't forget to check out more releases from Sematary Records on Bandcamp, Facebook, Twitter, and Instagram.