The Green Mushroom Band – Don't Disappear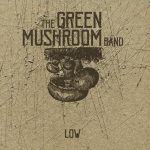 "Don't Disappear," by The Green Mushroom Band of Rueglio, Italy, features an element rarely seen or heard in today's polyphonic world: horns. Not the synthesized mutation, but the actual blow-into-this-end-and-sound-comes-out-the-other-end variety. Our last Song of the Day that was enhanced by a horn section was probably "Je t'aime aujourd'hui," from Belgium's Mademoiselle Nineteen, so maybe it's a European Thing. If so, then sono una ciambella gelatina.
"Don't Disappear" is extraordinarily easy on the ears, the perfect song to soothe one's soul even if one's soul doesn't require soothing. The aforementioned horns play over folky jazzy guitars, and beautifully expressive vocals by Riccardo Stura and Chiara Cortese attempt to reconnect a relationship that has veered inexplicably off the rails.
As a Certified Music Journalist, I am inherently compelled to provide at least one Obscure Reference in each review. The comparison to early Chicago, before Peter Cetera got a makeover, is too obvious. I'll reach deeper into the fictitious plastic crate that holds my record collection and pull out "So Very Hard to Go" by Tower of Power. Full disclosure: "So Very Hard to Go" sounds only peripherally similar to "Don't Disappear," but I like the song and I want everyone to know that I remember it.
The Green Mushroom Band is Riccardo Stura (acoustic guitar and vocals), Silvano Ganio Mego (bass), Emmanuele Pella (drums and percussion), Igor Vigna (trumpet and flugelhorn), Sebastian Loyola Castillo (sax), and Chiara Cortese (vocals). "Don't Disappear" is from their recently-released 10-song album, Low. I don't know much about this group, except that Riccardo Stura had an issue with a road closure. But they are a cut above most of the bands that appear in these virtual pages. As my awesome wife put it, "They sound like a real put-together band."
You can support deserving independent musicians like The Green Mushroom Band by visiting their Bandcamp page, listening to their songs, and downloading your favorite tracks. In addition to "Don't Disappear," I recommend "Before I Sell My Soul to You" and "Next to a Simple Rhyme," though I'm sure no one will complain if you buy the entire album. And be sure to follow The Green Mushroom Band on Facebook.