The Sweets – Coupe deVille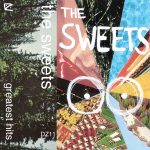 Today we feature one of the best songs that we've come across during Reverb Raccoon's four-and-a half years of existence. It's actually more like three years if you subtract the lengthy hiatuses, but who's counting? "Coupe deVille," by The Sweets, has been on heavy rotation in my ears since the band was featured here in 2014. At one time, "Coupe deVille" was on the short list for songs to be played at my wedding reception, but it eventually was cut because the "short list" was over six hours long and I would have been the only person there who had ever heard it.
"Coupe deVille," like most of The Sweets' music, fell into a genre that I dubbed NC Surf: a mix of dream pop and surf music that originated in North Carolina. The term never caught on as I was the only one who ever used it, and no one ever read the posts in which I used it. But I hope to someday be mentioned in a footnote in The Encyclopedia of North Carolina Music, a tome that, to my knowledge, will never be written.
So what is it that I like about this song? Primarily the vocal, by guest singer Helen Issac; secondarily the melody, which indicates some strong songwriting ability; and tertiarily the clean, surfy guitars. I also love the crazy guitar solo and the way, after the solo ends, that the rhythm guitars and vocal just take right up as if nothing happened.
The Sweets were Justin Hrabovsky and Zach Romeo. In January 2013, Zach and Justin set out to release an EP every month for a year. The effort produced around 50 songs, in spite of Justin and Zach being geographically separated for much of the time (Zach was attending NYU and Justin was a student at UNC Ashville). Eighteen of the best tracks were gathered into Greatest Hits, released in January 2014.
The Sweets released their last tracks in late 2015. Justin Hrabovsky joined Aunt Sis, which, like The Sweets, seems to have played its last show.
You can support deserving independent musicians like The Sweets, even after they've gone belly-up, by visiting their Bandcamp page, listening to their music, and downloading your favorite tracks. You should also check out Aunt Sis and another North Carolina band, Petey. All three of these bands were featured in a Reverb Raccoon guest post by Fluffy the Cat.
Bonus Track: "I Want Everything" by Aunt Sis. According to Fluffy, "It is about someone who has a lot of stuff but isn't as happy as he could be. He wants to be more like his sister."