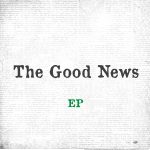 "Lakes," by The Good News, hits that sweet spot at the nexus of folk, jazz, reggae, and pop. The song glows with a warm, understated vibrancy. I'd love to listen to this in a car, but not too loud and with the windows rolled up so that I don't miss anything.
The arrangement is sparse: acoustic guitar and drums with a quiet bass down in the mix (I think). The song is simple but well-written; there's a natural flow from verse to chorus to bridge and back. Some songwriters never get the knack of it. I give extra credit to the drummer for knowing how to lend a spark to a quiet arrangement without overwhelming the other instruments. But the real star of this show is the vocal. This guy's voice is an excellent instrument, strong but easy on the ears without a trace of the twanginess that too-often hitches a free ride in the bottom of the acoustic guitar case.
The Good News comes to us from Rexburg, Idaho ("America's Family Community"), population somewhere south of 30,000. For those of you playing at home, the town is located in that corner of the state where Idaho, Wyoming, and Montana come together. Must be a beautiful place to live. I was in a bar in nearby Idaho Falls once, when a grizzly bear walked in. He went up to the bartender and said, "I'd like a gin … … … … … and tonic." To which the bartender replied, "Why the big PAWS?" Actually, that never happened.
The Good News is Ryan Gifford (vocals, guitar) and Jonathan Harris (drums, vocals). According to their origin story, as related on Facebook, "The Good News began one day when guitar player Ryan Gifford was walking home holding his guitar. Suddenly, he heard a voice call out to him from a nearby apartment with an open door. 'Hey, you out there with the guitar! Let's jam!'" And the rest, as they say, is history.
But seriously, folks, these guys are making some good music. "Lakes" does not sound like the product of a living room jam. It sounds like something people would actually want to, you know, pay money for.
And speaking of paying for music, you can support deserving independent musicians like The Good News by visiting their Bandcamp page, listening to their songs, and downloading your favorite tracks. And be sure to follow The Good News on Facebook and Instagram.