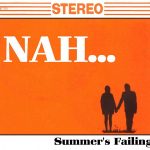 Today we are treated to a jangly spoonful of pure twee pop. For those of you who just said "What's twee?", don't worry. Just listen to the song…
"Summer's Failing" has everything that has been going into great pop songs since the day Phil Spector decided to write a two-minutes-forty symphony for the AM car radio: simple, undistorted guitars, a melody that stays with you, and enough hooks to make you hit the replay button as soon as the track runs out. For today's Obscure Reference, I'll say that "Summer's Failing" brings to mind True Hallucinations-era Ex Cops, a boy-girl band featuring Brian Harding and Denmark's Amalie Bruun.
"Summer's Failing is the first single from the same-named four-song EP set for release March 30. NAH…, based in Amsterdam, describes itself (themselves?) as a "Twee Pop project of Sebastian Voss and Estella Rosa." Estella sings while Sebastian provides vocals, instruments, and programming. I can't tell you anything definitive about Sebastian, other than that he has an obvious feel for creating great pop. Estella is the primary writer at FadeawayRadiate, a blog covering indie musicians (think Reverb Raccoon, only cool). Kenji Kenji, who belongs to pretty much every band in Europe,  lends an understated vocal to "Summer's Falling."
On their Facebook page, the band describes its origin: "As we were both working on a Sophistipop cover compilation for the Sophistipop Lounge, Sebastian needed some vocals on a jangly track that I rather liked….. A few months later Nah… was born. The name came to Sebastian in a dream…." NAH… may have an identity problem, at least in the US. There are at least two bands and a rapper running around calling themselves Nah. Be sure to look for the version with the ellipsis.
You can support deserving independent musicians like NAH… by visiting their Bandcamp page, giving their songs a listen, and downloading your favorites. Or pre-order all four tracks!
Bonus Track: "No Other," a single by The Golden Eaves featuring Kenji on vocals and guitar. Nice!