Lani Grooves – I Like Riding My Bike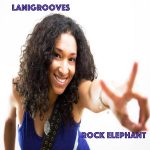 Today Reverb Raccoon steps away from our usual folky-rocky comfort zone to feature an artist who has taken a road less traveled: Iwalani Venerable, aka Lani Grooves, creates songs for children.
When my daughter was a wee lass, we started off each day by listening to a Barney the Dinosaur cassette. Somewhere in the distant regions of my brain, "B-I-N-G-O" and "Wheels on the Bus" are still floating around and banging up against the Rudolph the Red Nosed Reindeer video that we watched infinity times one year. Having survived that nightmarish season, I have a great appreciation for those who endeavor to create original kid-friendly music that – for the parent who also must listen to it – is not annoying (Barney) or pandering (Raffi).
"I Like Riding My Bike" is about, well, riding your bike. Or, as Iwalani notes on the song's Bandcamp page, "This song is about riding your bike! Be sure to wear your helmet!" We're not talking Bob Dylan here, but then, Bob Dylan never wrote a decent children's song. Have you heard his version of "Must Be Santa?"
"I Like Riding My Bike" is a catchy song that generates a lot of energy from a simple arrangement. Warning: this song will get stuck in your head, but in a positive way. I'm pretty sure that I will be singing this the next time I ride my bike. The track is from the album, Rock Elephant, fourteen songs about animals, helicopters, dinosaurs, going to the fruit stand… the things that kids are interested in. "This album is a cumulation of original children songs I have written over the past 4 years," Iwalani says. "Fun for the whole family! I hope you enjoy it!"
Iwalani Venerable lives in Oakland, California. She's a musician, performing artist, educator, and film maker. As Lani Grooves, she makes music for both children and non-children. I found "Headcase of a Hopeless Romantic" on her Reverb Nation page. I was tempted to make this the Song of the Day.
Rock Elephant and other releases by Lani Grooves are available on her Bandcamp page. You can support deserving independent musicians like Lani/Iwalani by listening to her tracks and purchasing a few of your favorites. And be sure to follow Iwalani on Facebook and Twitter.