Rio Devore – Almost Famous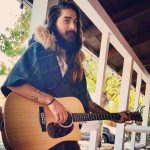 Like many of our previous Songs of the Day, today's offering turned up in Bandcamp's Folk section. That bin has proven to encase a pleasing mix of styles, from locations as diverse as Australia, Austria, England, Scotland, and the US. Today we visit the southern California town of Redlands to hear Rio Devore's "Almost Famous."
"Almost Famous" is a highly listenable shot of folk, leavened with a pop sensibility. The verses display a wordy, Kevin Devine-ish stream-of-consciousness, while the simple chorus is an airy breathing space. The song builds to an unexpected and beautiful synthesizer break.
Rio was kind enough to send us some background  on the song:
The long-awaited release of my first song off my new record is now released! It is titled Almost Famous and is about a wild night that I will forever hold dear to my heart. What I have learned while writing this song is that in my life I pressure myself and consider how to only do good and that sometimes doing something seemingly irrational can lead to a better sense of who I am. I know life moves fast and sometimes so fast that sometimes contemplation isn't an option. But aren't those the moments that let us know we are alive? What a meek existence we would have if not for those blissful carefree moments. Even though trouble of the past and fear of tomorrow exists, it's living genuinely in the moment with the other people in the room and reacting irrationally during those defining times that challenges us and allows for growth. Cheers
Rio's Facebook biography tells us that he has been making music in various guises since 2005. First in a band called The Night Of His Very Own Room ("this project was focused on one mused which should have been the first sign that it was bound to fail"), then Valleta;Malta, "a scremo band with break downs and words that could not be understood," that broke up after a single performance. These projects were followed by The Black Bear Revolt and Wyatt and The Buffalo. One gets the impression that these thirteen years have been a period in which Rio has learned and refined his craft, leading to the wonderful product that we hear today.
"Almost Famous" is from the album Learning To Laugh At The Sad Parts, set for release on April 7. You can pre-order the album, and download Rio Devore's other releases, on his Bandcamp page. Rio's entire discography is available for the low low price of only $12.60. Be sure to support deserving independent musicians like Rio by buying a few of your favorite tracks.
More songs by Rio Devore, including some by Wyatt and The Buffalo, are available on his Soundcloud page. You can get to know Rio better by following him on Facebook, Twitter, and Instagram.