Mike Herz and Emily Barnes – Closer to Home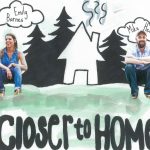 "Each one of the tunes is really special to us like all of you, so thank you from the bottom of our hearts. We hope we've made you as happy as the start of this journey has made us." – Mike and Emily, Closer to Home
Listening to the debut album from Closer to Home did just that – made me happy. The songs on this album remind us to have no regrets, look at the beauty around us and, most importantly, to slow down. Life consists of distractions and forces pulling us away from our dreams. How do we remain focused on our priorities? Feeling trapped, are we pulled or pushed out of it? Regrets? How do we avoid them?
Listen to these songs and find out how Mike Herz and Emily Barnes, the singer-songwriters who are Closer to Home, answer some of life's perplexing questions.
Cornered in behind this desk always daydreaming about what comes next
I feel the tightening in my chest somebody help me breathe
I have those papers piled high cause there ain't no need for me to say goodbye
There's just one way to learn to fly that is wind against your wings
They say nothing cuts you deeper than
The things you have not done
So if you need me just took towards the sun
Let go of all your insecurities
Hold tightly to someone that you love
It's too short
To not be who you want to be
You can't fit a square peg into a round hole
I think it's time that you let go of all this false control
And let it be
All good things are wild and free
You're constantly busy always hurry up
You've gotta make it on time or your world will erupt
So you fly down the highway lead foot on the gas
Ignoring the beauty you so often pass
I first heard "Color Me" while on a flight. My usual travel scenario – laptop open, the world tuned out, focused on work. In the big scheme of things, that scenario doesn't really matter. I was ignoring the beauty I so often pass. I closed my laptop, packed it away, opened the window shade, and gazed down at an amazing view of snowcapped mountains. Thank you, Mike and Emily.
Through an email interview today, Mike, yet again, proved that he's the real deal. He's not chasing a dream, he's living it – writing songs, being a devoted dad, shaping the future of kids, and he's not ignoring the beauty around him. He sees it clearly.
DZ: In a previous interview with Reverb Raccoon, he asked if you would like to become a well-known artist without leaving NJ. You replied that you have no plans to leave. You have your life there, the ocean, forest, NYC. Has that changed? Any plans to move?
MH: I think I'm in NJ to stay. With my daughter being so young and my mother becoming a full-time Grandma/Babysitter, it'd be hard to imagine a scenario where it could work any other way for the foreseeable future.
DZ: Being a musician requires self-discipline, talent, resilience, and tenacity. Which one is your greatest strength?
MH: Musically, I don't think it's a talent thing at all. I'm such a late bloomer in regards to playing the guitar and singing, that is has been a combo of tenacity, resilience and stubbornness that has gotten me to where I am at. I know people who sing in perfect pitch or others that just pick up instruments and find the groove of a song at the drop of a hat. That is not me. However, I was always a writer. I always felt a connection with words from a young age. I could turn a phrase, rhyme, or express myself on paper… long before creating music was a thought. I have been playing a lot of piano lately though, and I've learned how to transfer tunes that I wrote on guitar to the keyboard, so I guess that is progress.
DZ: How do you balance your real life with the artist life?
MH: I don't do it well. I do enjoy aspects of teaching, mainly working with teenagers who are on the brink of entering the "real world" and also reading classic literature but I know I need more to my life. I have more to give and more to say. The balance with fatherhood is easy to me though. Not easy in the sense that raising a child is easy, easy in the sense of prioritizing. My daughter comes first and the rest can wait.
DZ: Fast forward 15 years. Your daughter wants to become a musician. What is your advice? How is that different than advice you've received in the past?
MH: If she ever wanted to be a musician, I would totally support it. I would be able to prepare her for the realities of the lifestyle, both pros and cons. I like the no fall back plan for the younger musicians. There is a window of time where, if you are good and passionate enough, you have to be all in. Then if it doesn't pan out to what you desire you figure it out from there. What sounds better… being 22 with a college degree, 60K of debt and no real job opportunities or traveling the country, meeting people from all walks of life and sharing songs that you wrote from the depths of your soul? That perspective that I have contrasts the advice I've received which has pretty much been… "well, you have bills and a kid, so unless you can figure out a way to make enough money you really can't leave your current job." Which is 100% true and I have made peace with that.
DZ: Your songs tend to focus on conflict – leaving vs. staying. Staying is safe and comfortable. Leaving opens up opportunities. Is this currently a struggle for you?
MH: Leaving is not real for me, but these songs are co-written with Emily Barnes who at 23 years old has that option and the freedom to really go for it, so that part is authentic from her end. She has made tremendous strides in her career over the last few years and has that same passion I have with the time and blank slate to really go for it. I would not be surprised if she gets signed to a small independent label before long and really starts touring nationally full time at bigger and better venues. In fact, I'd be surprised if this doesn't happen. For me, I can still arrange brief tours and travel but it needs to be concise and efficient to be worthwhile.
DZ: One of your lyrics says "Nothing cuts you deeper than the things you have not done." What, if any, are your regrets?
MH: Regrets are pointless. It would've been nice if I found music earlier, but I cannot regret having not done so because I have a whole lot to be grateful for and I am still here and still doing it.
DZ: Which song on this album resonates the most with you? Why?
MH: There is not one song on the album that resonates more than others… at least not with me. There are lyrics or sections that always feel good to sing or hear. The line in "Traveler's Song" about following the compass of your heart ended up working out really sweet in its delivery. All the songs have a lot of truth to them.
DZ: You performed a live online concert last year. I enjoyed it! Any plans to do more? Pretty please. 🙂
MH: We did do a last minute duo online show right before New Years that we did not really promote well at all. I will probably do another one in promotion of my next full length album that I am starting to dive into. So I'll keep you posted on that one!
DZ: Any plans to perform Closer to (my) Home?
MH: I would love to make it down to Texas this summer for a little run of shows and if I do, I will try to make Houston happen!
Closer to Home's EP is available for download on Bandcamp. Visit Mike Herz and Emily Barnes on Closer to Home's website. Join Mike Herz on Facebook, and on Twitter. Drop into Emily Barnes' website, friend her on Facebook, and follower her on Twitter.
And be sure to check out Reverb Raccoon's previous reviews of Mike's solo work, the album Overgrown and the single "Smoke Your Smoke and Drink Your Drink."
Bonus Video: Emily Barnes & Mike Herz (Closer to Home) perform "If the Stars Align" at Cafe Improv in Princeton, NJ, 2013.