Camilo A Secas – Un Querer del Bueno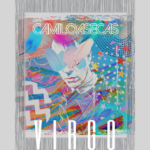 Then that same afternoon it was Florentino Ariza who saw the face of death when he received an envelope containing a strip of paper, torn from the margin of a school notebook, on which a one-line answer was written in pencil: 'Very well, I will marry you if you promise not to make me eat eggplant.' — Gabriel García Márquez, Love in the Time of Cholera (translated by Edith Grossman)
Enumerate every eventuality that may pry apart a pair of potentially happy people, and the polling leaders are easily predicted: religion, distance (the dreaded LDR), strife (civil, uncivil, or familial), preference of pets, politics, even eggplant.
Having experienced several of the above, I won't claim to be an expert on overcoming any of them. The highest barrier over which I had to step was myself — specifically, my own propensity to mess things up by being myself. The evident irony, of course, is that the 'best' advice one always encounters is just be yourself. Jesus Christ, just being myself was the reason I was available in the first place.
I'm happy to report, though, that I finally found happiness — Happiness being a wife and soulmate who also happens to be my best friend — by ignoring my every instinct and just, well, doing nothing, a stratagem that, while maddening to my future partner, had the fortunate by-product of not doing the wrong thing.
'Un Querer del Bueno' is a tale of two lovers separated by an unspecified something; the conflict encountered in our play's second act — the first act introduces the protagonists and details their backstories — matters less than their state when the curtain drops on Act III, that is, together. Or, as Camilo A Secas shared with us, 'Un Querer del Bueno' ('A Good Love') is a song that talks about two lovers who fight with all the world to keep and save the relationship. It's the story of my parents.
Two pains that are understood
Courage turned into verse
The city and its streets have been silent
This is a good love
And you are willing to give yourself
To take away your fears and stay with him
— Translation from Spanish by Camilo A Secas
'Un Querer del Bueno' is one of those wonderfully listenable almost songs: almost folk, almost pop, almost rock. The track could be nudged into any corner of the triangle, but instead floats magically between the vertices to exceed 180 degrees, the angles' theoretical sum. And the video, featuring the singer's parents, is completely charming.
Based in Talagante, Chile, Camilo A Secas self-describes as dueño de canciones que han permanecido años durmiendo en habitaciones de papel (owner of songs that have spent years sleeping in paper rooms, according Google Translate). 'Un Querer del Bueno' appears on his eleven-song album, Virgo, released late last year. The album also features 'No Fears,' a song sung in English that's worth a listen (and a look)…
The music of Camilo A Secas is available on Bandcamp, Spotify, Apple Music, Amazon Music, YouTube, and Soundcloud. And be sure to follow Camilo A Secas on Twitter, Instagram, and Facebook.