Seth Martin and The Dish Boys – Please Be Good To Each Other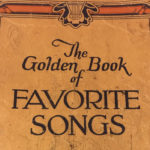 My father's father visited the Grand Ol' Opry back when it was in the Ryman Auditorium, sat through the entire Saturday night performance without clapping or commenting, then turned to Mamaw and said Is that it?
I don't know much more about the man because Dad rarely spoke of him. He was a lineman for the county, and met his maker on a Mt. Pleasant power pole long before I arrived. He and Mamaw and Dad lived in a four-room house that was heated by a wood-burning stove. He was good with tools, liked baseball, and hunted. I carried his hunting coat from closet to closet for many years before giving it to an acquaintance in Wisconsin. There were still feathers in the game pouch.
On a cold morning when my parents weren't around, Mamaw went on a breakfast-long rant about how the man was lazy, worthless, and afraid to stand up for himself. Then she concluded by saying But he sure was easy to live with. I'd be happy if someone left that on my tombstone.
With 'Please Be Good To Each Other,' Seth Martin and The Dish Boys ask us to, well, to be good to each other. We're all stuck here in the same little revolving house, where blue spaces separate the green fragments that are warmed by a common sun.
Blue blue's the water
And green green are the trees
My heart rushes red
And I'm asking you please
Please try to be
Good to each other
Please be good to every
Sister, mother, father, and brother
'Please Be Good To Each Other' is rootsy country rock — sweet, simple and stripped down — just a touch of the Band and maybe Crazy Horse. There are more open spaces in the song than there were drafts in the unheated enclosed porch that my grandfather built onto the back of his house, where my dad lived when they had to take in an aunt who was suffering from consumption.
Seth Martin and The Dish Boys are based in Athens GA. 'Please Be Good To Each Other' first appeared on their October 2020 release, Sending Out My Love, and is included on their new thirty-song retrospective, The Golden Book of Favorite Songs, comprising recordings from the band's six studio albums. Musicians on today's track include Seth Martin (acoustic guitar, electric guitar, piano, vocal), Robert Hibbs (electric guitar, violin, vocal), Eric Zock (drums, vocal), Matt Garrison (bass, vocal), Mark Plemmons (piano, organ), and Tyler Key (pedal steel).
The music of Seth Martin and The Dish Boys is available on Bandcamp, Spotify, and Apple Music. And be sure to follow Seth Martin and The Dish Boys on Instagram and Facebook.