Six Songs for a Subjangley Sunday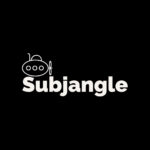 Music downloads now bring in less revenue than physical products, and CDs are all but dead… CDs are now worth less to the industry than every category of music distribution other than tiny ones like ringtones and music video downloads. — Forbes, September 2020
The report of my death was an exaggeration. — Mark Twain, on being informed that he had died in poverty
The humble compact disc is derided by audiophiles and shunned by the stream-happy public. CD sales have dropped below sales of vinyl albums — the medium they were intended to replace — for the first time in thirty-four years. But I'm happy to report that the CD is not dead. The shiny metal circle still soldiers on in the service of indie music fans, those who desire a physical product that is more serviceable than a cassette and less likely than vinyl to warp when left in the back seat of a car.
Darrin Lee's Subjangle Records has not been informed of the CD's demise. Based in Pretoria, they create limited runs of discs for a select group of mostly-jangly artists. 'We usually do short runs of between 75 and 125 discs,' Darrin told us. 'They are done on a pre-order basis. We will always do 75, and if sales inform it we will go up to a max of 125. We do no further runs thereafter. However, none of it is set in stone, as we will definitely do bigger runs for acts who have an established fanbase.'
Subjangle creates a quality product, with album art and liner notes printed on solid four-panel stock. This isn't some cheap-ass crap cranked out in a closet. But, also of interest, is the quality of the artists that Subjangle supports. There's a certain — subjangliness? — to every musician in the Subjangle stable. So let's give ourselves a subjangley Sunday by sampling six songs from the Subjangle catalog…
The Umbrella Puzzles – Slip Through the Cracks
The Umbrella Puzzles — Ryan Marquez of Richmond CA — create deceptively simple-sounding songs that will seriously stick in your head. We became a fan of Ryan's music when we stumbled across his previous project, Golden Teardrops. 'Slip Through the Cracks' appears on the new Umbrella Puzzles album, A Slowly Dawning Realization. I've never listened to an Umbrella Puzzles track without immediately pressing the replay button.
3 A.M. Again – Here Comes the Rain
Boston's 3 A.M. Again, a solo project by Michael Telles, makes music that drifts between folk and jangly dream pop. Formerly known as Night Heron, their new album, Come Back From The Sun, compiles eighteen tracks from previous digital-only releases, plus an additional pair of songs created especially for the Subjangle release. Hearing the haunting 'Here Comes the Rain,' we ask Which came first, the rain or songs about the rain?
Alpine Subs – Clear Blue Water
Alpine Subs blow in from the Indie Music Capital of the World: Chicago. They self-describe their new fifteen-song album, Sweethaven, as 'growing to incorporate influences from the foreboding psychedelia of Meddle-era Pink Floyd and prime Stone Roses, with shades of country rock and more modern-day alternative rock sounds.' I love the slightly Stealers Wheel-ish 'Clear Blue Waters.'
The Crystal Furs – Drag You Away
The Crystal Furs and I first crossed digital paths several trips around the sun ago, when I was in Georgia and they were in Texas. Then I moved to Texas and they fled to Portland, but I'll track them down no matter how far they run. Last year I had the pleasure of reviewing their latest album, Beautiful and True, for Estella Rosa's FadeAwayRadiate. 'Drag You Away' checks all of the C-Furs boxes: jangly guitars, retro organ, unexpected chord changes, and a wispily defiant vocal.
Blake – Be Mine
File under: 'Eclectic.' Blake's motto warns us that his music does not slide easily into a single slot. Nor can it be hash-tagged within a decade; the songs on his new album, HMS Blake, may be streamed in the next century, or perhaps they were heard through the AM radio of a late-60's mist green Impala. The album's forty tracks — comprising previous releases, bonus tracks, and sounds that echoed in from the back catalog — are impossible to represent with a single selection. But I'm a sucker for simple love songs like 'Be Mine.'
The Pierce Kingans – Memory Saved
Vancouver's Pierce Kingan may be the quintessential Subjangle artist; his music comprises equal parts folk, rock, janglepop, sweet dreams, and soul. 'We're going for that Spooky Ruben kinda sound' we learn in his Bandcamp bio. The twenty tracks on Pierce and Love to all the World were largely lifted from the back catalog. It's a wonderful, somewhat quirky, collection. And I'm down for any song, like 'Memory Saved,' that opens with the despair of a disconnected dialing.
The music of Subjangle Records is available on Bandcamp. Visit their Janglepophub blog, and be sure to follow Subjangle Records on Instagram, Twitter, and Facebook. Subjangle releases sell out very quickly (the Umbrella Puzzles album sold out in less than 36 hours) so check in often; you won't want to miss a single jangly chord!