Guest Post by Fluffy the Cat: David Woodard – May the Road Rise Up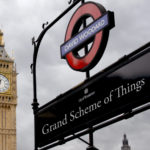 Hi it's me again. Fluffy the Cat. Sometimes when the Food Guy is busy he lets me write his log post and put it on the Winternet. Today the Food Guy has a pre-existing condition to lie on the couch and watch television, after which he will complain about his back being stiff. The Food Guy says his back has been sore ever since his daughter was a kitten and he used to carry her around in a laundry basket. But I think his back is sore because the Food Guy is, like, five hundred years old in Cat Time.
Today I am going to write about 'May the Road Rise Up' by David Woodard. May the road rise up to meet you is part of an old Irish blessing. The Food Guy was born on Patrick's Day which makes him two-fifteenths Irish. He says his dad had Irish Alzheimer's: he forgot everything but the grudges. I think Patrick played for the Saints and drove the snakes out of New Orleans.
'May the Road Rise Up' is about a cat who is sitting in the front window watching the people walk by on the street. And the cat thinks about how close she is to the ground and how she takes little small steps. And her food person is far above the ground and he has to take big giant steps. And the cat thinks that if the ground was higher, maybe her food person wouldn't have to take such long steps.
'May the Road Rise Up' has plenty of jangly guitars and nice harmonies. I do not want to hide under the bed when I hear it. When I hear 'May the Road Rise Up' I want to find my ball of green yarn and bring it to the Food Guy. And after I drop the yarn I will look up at the Food Guy and say, 'May the ground be closer to your head, Food Guy.'
David Woodard lives in Nashville which is close to where the Food Guy lived when he was a kitten. The Food Guy showed me Nashville on a map and it is only a few inches from our home here in Houston. Maybe some afternoon I will trot over to Nashville and visit David Woodard. And I'm going to keep making that joke until someone writes in and says they laughed at it. Okay I'm going to stop now and let the Food Guy finish.
'May the Road Rise Up' appears on David Woodard's new six-song EP, Grand Scheme of Things. He describes his music as British invasion-inspired power pop… with nods to Fountains of Wayne, Matthew Sweet, and the Traveling Wilburys. 'May the Road Rise Up' was written by David Woodard and features Lisa Mychols on bass and Ian on drums.
David Woodard's music is available on Bandcamp, Spotify, Apple Music, CD Baby, and YouTube. And be sure to follow David on Instagram, Twitter, and Facebook.