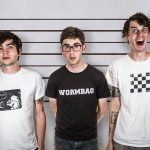 This feature first appeared in 2014. And I am going to keep reprinting it until someone recognizes the genius of Wormbag.
—
I have seen post-grunge alt-folk country dream pop future and its name is Wormbag.
Wormbag slammed into the Portland music scene in 2012. The following year they arrived near the bottom of Willamette Week's Best New Band poll of music industry insiders, barely edging out Bone Voyagists, a band without a documented existence, and inspiring the famous remark by writer Matthew Singer: "It's befuddling that a band signed to the venerable Snot Boogie label, with song titles like 'Never Play an Acoustic Set' and 'Sucka Nuts,' wouldn't receive more votes, but then, some of our 'music insiders' are just more inside than others."
Following that auspicious genesis, Wormbag's Facebook page has racked up an astonishing 319 "likes" plus 1 "talking about this."
Like most Portlanders, Wormbag is concerned with environmental issues. But they do not blindly follow the eco-party line. In "Crop Duster" they maintain that the critical element in mankind's survival is not the reversal of anthropogenic climate change, but soil conservation.
If you've got no mud,
Well then you've got no trees
If you've got no trees,
Well then – pffft – you can't breath
One really cannot summarize the issue in simpler terms.
The band's social consciousness extends right up to the schoolhouse door.  In "The Jackson Three" the band spells out, literally, a scathing indictment of our underfunded and overpraised K-12 educational-industrial complex.
But Wormbag is more than Issues and Answers. "Death March" is a rollicking rockabilly romp that summons the ghost of Charlie Feathers, tempered with the poignancy of a Patsy Cline torch ballad. "Had the blues since the day I was born," lead singer Nate shares with us, "and the doctor smacked me on my ass."
The three-piece power trio (or two-piece noise-rock duo, depending on which online profile you prefer) self-describes as "poor rock." It has been reported that their most expensive piece of equipment, the drum kit, cost only $150. And on December 14, 2013, they noted on their Facebook page that they finally completed a show without something breaking. But, given their low overhead, if Wormbag's current upward trajectory continues they should be edging into profit by Q4 2016.
Wormbag has 5 songs available for free download on Reverb Nation. Their 16-song self-titled LP is available for streaming on Soundcloud. Join Wormbag on Facebook. And be sure to "Like" them.
BONUS VIDEO: Wormbag performing live at Burgerville as the oppressed workers behind the counter continue to serve their capitalist pig masters by pushing grease-laden burgers onto the already-obese proletariat masses. Hell yeah!