Presenting the First Annual Reverb Raccoon T-Shirt Awards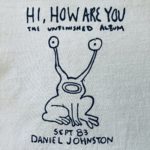 I discovered Daniel Johnston in 2008 when I saw The Devil and Daniel Johnston. I loved his songs, and immediately ordered the iconic Hi, How Are You t-shirt from Daniel's website. I wore it the following year when I saw Daniel Johnston perform at the Austin City Limits festival. It's a great shirt, very high quality, and after twelve years of regular wear the shirt shows no major signs of decay, save for a bit of tomato sauce stain on the collar and a spot of paint near the tail.
Around the time of ACL, I was wearing the Daniel Johnston shirt when I visited an Ace Hardware store in Houston, one of those places that are slowly dying and will inevitably lose their one-sided battle with Lowe's and Home Depot. These stores still exist only because they carry the weird toilet gasket that the local builders used in 1983, and that fastener that hasn't been manufactured since the Eisenhower Administration. I don't remember what I was buying; caulk maybe.
The middle-aged cashier was, I would guess, the daughter of the store's owner. She was sitting in a chair behind the counter, looked exceedingly bored, and didn't bother to stand up when I placed whatever-it-was on the counter. She eyed my Daniel Johnston shirt and said Am I supposed to know who that is? I didn't take her question as being mean or sarcastic; I think she honestly wanted to know who Daniel Johnston was.
The long strange trip of Daniel Johnston fast-forwarded through my eyes, and I wasn't about to attempt a narration. But at the time Daniel was living in a little town northwest of Houston, so I said He's a musician that lives out in Waller. The cashier said Oh, apparently satisfied with my answer. She probably pictured Daniel Johnston as just another musician playing solo acoustic shows around Houston and Austin, selling his cassettes and t-shirts at a merch table.
The t-shirt of our favorite band or musician is a talisman — a layer of good vibes between ourselves and the world — an enabler of human connections, and an advertisement of our own outstanding good taste. And some of them look pretty cool. So to honor the musicians whose shirts I proudly wear, we present the First Annual Reverb Raccoon T-Shirt Awards. The link in each subtitle goes to the musician's Bandcamp page. Check out their music and merch. Maybe you can score one of these soon-to-be highly collectable beauties!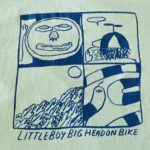 Most Frequently Worn – Will Orchard
I own three Will Orchard shirts, so when I grab a shirt from the bin the odds are good that it will be one of Will's. My favorite is the lime green one, now slightly faded, that dates back to Will's days as LittleBoyBigHeadOnBike. This is the Golden Boy of the rotation, always the first shirt I wear out of the laundry. I bought it when Will played in Houston, in an empty lot with a small open stage at one end and a few picnic tables for the audience. Wear this shirt while sitting in the shade behind the garden and pondering why an elm tree suddenly sprouted in the middle of the pentas, when there are no elm trees for miles around.
___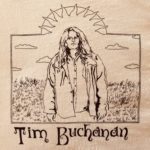 Best Representation of the Artist – Tim Buchanan
Most indie musicians place a design or logo on their shirts. Tim Buchanan's shirt bears a wonderful drawing of Tim. We see a bare outline, the details to be filled in by the viewer's imagination. The aesthetic matches that of many songs on Tim's 2019 solo album: simple sketches, just voice and acoustic guitar. This is a nice, light shirt, perfect to wear on that August day when the marigolds along the back fence are asking for water, and you remember drinking from the hose when you were a kid, and how your mom would bring out popsicles made from frozen grape Kool-Aid.
___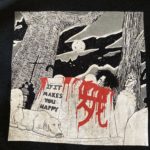 Best Overall Artwork – Him Horrison
Mississippi's Him Horrison plastered some serious art on their Death Tee. Billed as a collab with Gabriel the Angel, the image appeared on the cover of Him Horrison's 2019 LP, Post Modern Pastiche of Everything. There's no mention of the musician, just a reference to Him Horrison's haunting cover of 'If It Makes You Happy.' This is a high-quality Gildan shirt made of heavy cotton. I don't wear it as often as I should, since I don't want to scare the little retired ladies in the Lowe's garden section. Wrap this shirt around your soul when you're ready to cast a spell on the Virginia Buttonweed that infested the St. Augustine like an insidious plague following the Spring rains.
___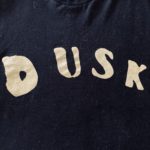 Best Rendition of a Logo – Dusk
Our favorite Wisconsin band keeps it simple with a gold and bold DUSK on a black background, re-creating the cross-stitched logo that appeared on their outstanding self-named 2018 album. The cats love this shirt. If I drape it across a kitchen chair to dry after it exits the washing machine, I'll return to find the shirt on the floor and under a cat. Wear this shirt when you venture out just after dark to check the solar lights that twinkle inside the Mason jars placed along the edges of the flower beds, colorful entertainment for the armadillo that will later crawl under the fence to prowl the garden in search of unsuspecting grubs.
___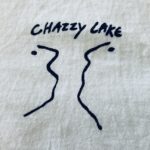 Most Classic Look – Chazzy Lake
Chazzy Lake presents a timeless look: a white shirt with enigmatic profiles scribbled in the upper left like a family crest. This is an important shirt for me: I received it in exchange for writing Chazzy's Bandcamp bio, allowing me to finally claim the title of Professional Writer. Roll up a pack of unfiltered Camels in the sleeve and head for the drag races out at the trestle. Or layer this shirt below a jacket and enjoy an October evening grilling burgers on the back porch. Afterwards, sip from a glass of Kim Crawford Sauvignon Blanc as you wander through the beds pulling the occasional mulberry weed and hoping to see a hummingbird moth flitting among the Turks Caps.
___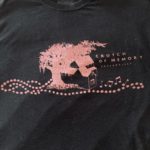 Most Comfortable – Crutch of Memory Enterprises
I'm not smart enough to know why one t-shirt is softer than another t-shirt, but this Hanes number from Crutch of Memory is the softest in the bin. Maybe it's the 5% spandex. Described as America's Most Elusive Musical Enterprise, Crutch of Memory is the production company and record label behind the offerings of Dusk and Tim Buchanan. Their recent projects include releases by Dream Interpreter, R Boyd, the Wishbone Breakers, Wildflowers in America, and the solo works of Amos Pitsch and Harris P Andrews. Pull on the Crutch of Memory shirt at the end of the day, after the grass is watered and the tools are returned to the shed, and the backgammon set is extracted from its drawer…
And there we are: six award-winning shirts that, if worn properly, will make you appear smarter, more attractive, and more musically hip. Check the merch tab on your favorite indie musician's Bandcamp page. That shirt you buy today may be a prized collectable tomorrow. And a final grace note: if folks send along the names of the artists responsible for the designs featured here, I'll be happy to add them to the article.