The Crystal Furs – Expo 67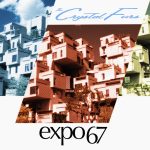 Ruins may be decaying, they are not dead, they are filled with possibilities for wondrous adventure, inspiring visions, quiet moments, peripatetic playfulness, dystopic preparation and artistic potential. — Bradley Garrett, Explore Everything: Place-Hacking the City
The 1967 International and Universal Exposition — branded as Expo 67 — was fabricated by the city of Montreal on a pair of islands that had emerged from the ooze of the St. Lawrence River two years before, their sediment sourced from the tunnels excavated to create the city's subway system. The exposition marked Montreal's entry into the league of world-class cities, and French president Charles de Gaulle prematurely declared the liberation of Quebec.
Fast-forward fifty-plus years, and Expo 67 is recalled in the small clutch of architectural souvenirs that reside on Montreal's mantle. The majority of exposition structures have been lost to decay or demolition. A fire consumed the acrylic cover of Buckminster Fuller's geodesic dome, leaving behind bare spars of steel. And Les Expos de Montréal — the expansionist baseball team whose name memorialized the exposition — fled to the colonies, their stadium's retractable roof having never been coerced into opening properly.
But the modular concrete cubes of Habitat 67 still beckon, its Utopian idealism now inhabited by wealthy consumers who pay up to $1.4 million for the privilege of residing in an unrealized Future. With 'Expo 67,' the Crystal Furs find beauty in the structure's Brutalist boxes as two people create an unstressed connection within the confines of prestressed slabs and high-tensile steel.
We built a home of concrete bones
Steel frames and picture windows
The future's now and so highbrow
In this pale woodgrain limbo…
I'll meet you at Expo 67
We'll take a stroll
    beneath the concrete sky
I'll meet you at Expo 67
The blank gray walls
   bring out the blue in your eyes
In your eyes
'Expo 67' is Thinking Person's Pop, slightly retro but with a few extra key changes and melodic diversions thrown in to make the trip interesting. The payoff arrives with the majestic chorus in which Steph Buchanan's beautiful voice finds a firm footing in major chords. The C-Furs describe 'Expo 67' as an architectural lesbian love story, giving an ironic side-eye to the theme of the original Expo 67: Man and His World.
Based in Portland, Oregon, the Crystal Furs are Steph Buchanan (guitars, vocals), Kara Buchanan (keyboards, percussion, drum programming), and Rowan Church (bass guitar, drum programming). 'Expo 67' appears on their soon-to-be-released album, Beautiful and True, available on Subjangle Records.
The music of the Crystal Furs is available on Bandcamp, Spotify, and Apple Music. Visit the Crystal Furs' website, and be sure to follow the Crystal Furs on Twitter, Instagram, and Facebook.