Christopher Ryan – A Little Bigger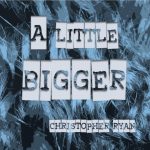 People deal too much with the negative, with what is wrong. Why not try and see positive things, to just touch those things and make them bloom? — Thich Nhat Hanh
My wife talks to our peppers and tomatoes. Oooh you're so cute! You'll be a big plant someday! You're already putting on blooms!
Lately our Roma tomato has received extra encouragement. He's a scrawny little guy, barely knee-high while the San Marzano is as tall as me. It isn't the plant's fault; I dealt it a bad hand. I planted it late, and placed it in an open spot that was once sunny all day, but that now — thanks to the unexpected success of a nearby ash tree — barely qualifies as partial shade.
But the Roma is trying to make a go of it: a handful of green tomatoes dangle from its spindly arms, and one may be changing to a hue vaguely resembling chartreuse. He's doing the best he can with what he has to work with, Diann reminds me when I give the Roma's efforts a skeptical eye and wonder why I invested a good tomato cage on this failing enterprise.
In these strange times, independent artists of all species and taxonomies — most already struggling within etiolation before the pestilence arrived in their garden — have found themselves pushed deeper into the shadows. Performances have been canceled, lessons put on hold, their fans' disposable income greatly diminished. And  — worse yet — the jobs that subsidized their artistic efforts have simply vanished.
With 'A Little Bigger,' Christopher Ryan pays tribute — and offers timely encouragement — to the dreamers, musicians, painters, actors, and next-generation artists who are pushing out fragile blooms without even the most meager dousing of Miracle Grow.
And this one goes out
To everyone who digs deep
Who still has the courage
To live for their dreams
Live life a little bigger…
'A Little Bigger' is a genre-blurring song that would not have been found on your grandfather's playlist: hip-hoppish cadences delivered over a folky acoustic guitar. The stripped-down arrangement yields plenty of restrained energy. 'A Little Bigger' is the song you hear as you climb out of the subway station and pass the busking musician who is giving all he can in exchange for a handful of coins.
Christopher Ryan describes his music as modern indie folk and authentic music. He has lived in New York, Georgia, Florida, the Appalachian Foothills, and now Denver. Shades of each region appear in his songs.
'A Little Bigger' was recorded by Larry Mitchell, who won a Grammy for producing Totemic Flute Chants by Johnny Whitehorse. The track was mastered by David Glasser, who has scored two Grammys, for his work on the Anthology of American Folk Music, and Screamin' and Hollerin' the Blues: The Worlds of Charley Patton.
Christopher Ryan's music is available on Spotify, Apple Music, YouTube, Bandcamp, and on his website. And be sure to follow Christopher on Twitter, Instagram, and Facebook.